More About Integration Model
The Integration Model: Living Out Your Vision
Vision is realized only to the extent that is integrated into the life of the church, one conversation at a time. Movement is made not with great vision-casting alone, but with small, ever-present steps of integration. Once you have walked the Vision Pathway, you will need to align your organization with your newly crafted Vision Frame so that you can live it out in meaningful ways.
There are five important areas of integration that transcend the typical silos of ministry. These areas form the Integration Model: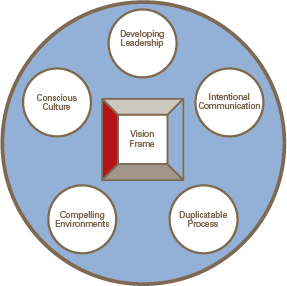 Recruit, train, and organize leaders based on vision.
Reinforce vision with great design and clear language.
Build systems that support and expand your vision.
Embed vision deeply into every environment.
Reflect vision by using story, symbol, and scripture.
Each of these areas requires intentional and focused efforts to be properly aligned with the Vision Frame. Together, they form an incredibly strong framework of alignment and movement toward your mission.
We've organize the resources here in the Vision Room according to these five areas of the Integration Model. Take advantage of the best thinking and learning of other leaders in these areas and apply them to your specific context.
Or, contact us to set up a consultation  with a trained Auxano Navigator that can walk alongside you as you align your organization with your Vision Frame.