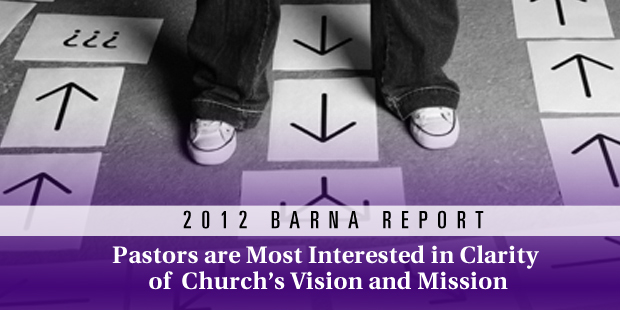 2012 Barna Report: Pastors Are Most Interested in Clarity of Church's Vision & Mission
by: Will Mancini

As I've watched conversations over the past decade, I have observed a growing interest from church leaders in getting mission and vision right.  The latest Barna Group report that studied how pastors plan to improve their churches in the coming year affirms this.  David Kinnaman, who directed the research study put it this way:
"Most pastors are open to changing their ministries, yet many of them are struggling with the foundational questions of mission and vision. In other words, they want a clear direction to pursue, not necessarily just more ministry resources, like facilities, equipment, technology or ministry tools."
Here are a few bullets that highlight important takeaways from the Barna research.  You can read the full article here.
The highest priority for pastors is assessing their church's mission and vision.(59% said they definitely will; 88% probably will)
The second priority is to assess the church's reputation in the community.(38% said they definitely will; 72% probably will)
Conducting an assessment of spiritual transformation in their church is an important goal. (22% said they definitely will; 50% probably will)
Measuring demographics and spiritual needs in their local community will be a priority. (31% said they definitely will; 62% probably will)
This report continues to expose the growing interest in and need for vision consulting as higher priority is being put on vision clarity by church leaders.  It also reinforces one of the points I mentioned in a previous post, 2011 Vision and Strategy Church Trends where I observed that we are seeing a shift in priorities and needs of church leaders. It is a shift that is moving away from packaged campaigns and programs towards the ability to navigate organic and culture-savvy solutions. Indeed, help in clarifying vision has become the most common reason for a pastor to pursue a consultant.

Tags: Barna Report, Clarity, David Kinnaman, Will Mancini