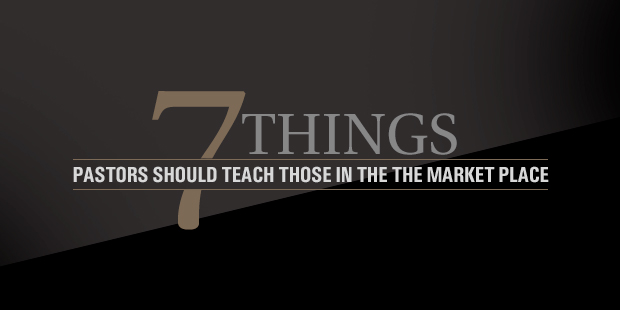 7 Things Pastors Should Teach Those in the Marketplace
by: Lukas Naugle

The marketplace, the everyday world of trade and economic activity, is where most people spend the majority of their days. In modern history, the marketplace has played an unparalleled role in shaping our world. Globalization has turned countless local markets into one massive global market. Advances in technology and communication have managed to bridge enormous geographical and cultural gaps with blinding speed.
Meanwhile, the language and norms of the marketplace have changed the way other social institutions, including the church, think and operate. Even family life has been shaped by the marketplace in seemingly indelible ways.
Yet the marketplace is not a single homogenous entity. It is a complex organism that defies easy definition. The marketplace experience of a plumber is not the same as a venture fund manager, and the work of a banker is different from the work of a teacher. Indeed, work happens
in a variety of locations (from home, remotely, in the air, from a car, in an office, in a cubicle, in a warehouse, in a field, in a sky rise, underground, on the water),
in a variety of employments (freelancers, employees, contractors, consultants, employers, sole proprietors),
and in a variety of organizations (firms, small businesses, large corporations, franchises, practices, partnerships, governments, schools, nonprofits).
Therefore, as a pastor seeks to teach biblically about marketplace dynamics, it is helpful for him to deepen his empathy and broaden his understanding of the vocations represented in his congregation.
So what should pastors teach to those called to the marketplace?
Read Page 2

Tags: Discipleship, Lukas Naugle, Ministry in the Workplace