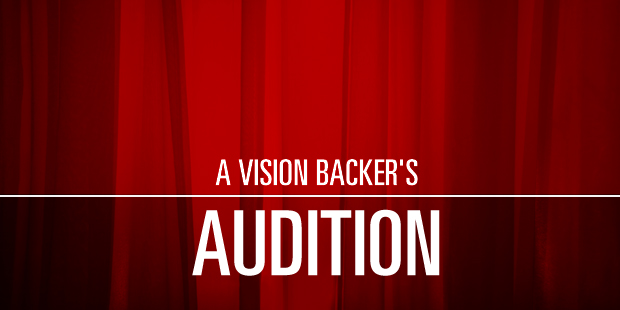 A Vision Backer's Audition
by: Steven Furtick

The other week I saw an interesting facet about the production of plays that I think applies beautifully to the all-important practice of casting vision.
Sometimes a new play or film needs outside investment to get off the ground. When this is the case, the creators and organizers of it make a small presentation of the play called a backers' audition for a group of people who could fund it.
If they win support, the production goes forward. If not, it stalls or falls apart.
When it comes to casting the vision God has put in our hearts, every time we're presenting it to people it's like a backers' audition. Every person you cast your vision to isn't just a person you're informing about what you're doing. They're people who could potentially back it. Be a part of it. Invest their lives into it. And therefore make it happen. Or make it stall or fall apart if they don't get behind it.
And we're not just talking about their money. But also their time. Their energy. Even their lives.
Are we approaching these opportunities with our best shot or are we just throwing it together and hoping it sticks?
In the early days of your vision, you can't just hope that it sticks. Otherwise, it's never going to get off the ground. The key differentiating factor between visions that become a reality and those that remain good ideas are backers.
Everyone has passion for their own vision. But it's those who can instill it into other people who see it come to pass.
Everyone is willing to throw money at their own vision. But it's those who can get others to do the same who eat past the first month.
What God has called you to do is too important to give a mediocre presentation of it. When you're presenting and casting your vision, always put your best foot forward. You never know, these could be the people you spend the rest of your life with chasing the dream God has placed inside of you. Don't let them walk away easily because of poor presentation.
Before you give your next backers' audition, ask yourself these questions:
Is the presentation of your vision compelling?
Is it sticky?
Is the vision clear? Could they sum it up and give it back to you after you're done?
Is your presentation of it so short that people can't get the full picture of what you want to do? Or so long that they lose interest long before you're done?
After hearing it, is it something people would want to sacrifice for just to be a part of it?

Tags: Elevation Church, Recasting Vision, Steven Furtick