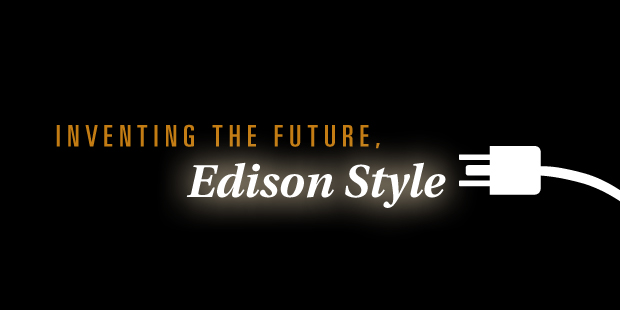 Inventing the Future, Edison Style
by: Sarah Miller Caldicott

Can we learn to be innovative? What factors allow us to establish a vibrant relationship with the future?
Thomas Edison was the most outstanding figure in an era marked by an extraordinary confluence of American innovation – including the work of Alexander Graham Bell, Henry Ford, George Eastman, Harvey Firestone, John D. Rockefeller, George Westinghouse, and Andrew Carnegie – that accelerated America's leadership in global business.Edison understood that innovation is much more than invention. Through the establishment of his two extraordinary laboratories at Menlo Park and West Orange, NJ, Edison drove innovation on many levels, including strategic technological, product/service, process, and design innovations.
How did Edison excel in so many different kinds of innovation?
Thomas Edison's great grand niece, Sarah Miller Caldicott, will retrace her famous relative's footsteps and explore his timeless methods to innovation success in a talk that will inspire and inform. Her approach is based on Edison's Five Competencies of Innovation.
Watch the video here:
Inventing the Future, Edison Style
Read more from Sarah here.

Tags: Innovation, Leadership Development, Sarah Miller Caldicott