We all love great stories. And if you are a church leader, you especially love fresh stories of our Savior-King, Jesus.
A few years ago, we began to grow weary of church success stories that were exclusively about worship attendance. Don't get me wrong— we celebrate, as readily as anyone, the work of God that explodes with numeric fruit. But we all know that Jesus is moving in ways less visible— or should we say, less platformed— across North America.
So the Auxano team decided to create "a list for the rest of us" – the Unique 19. We want to salute the hard work of creative and faithful visionaries that may never make the "100 largest"or "fastest growing" list. We want to inspire worship of Jesus, the chief visionary and kingdom entrepreneur whose follower-leaders are taking small towns and niche communities by storm. We want to stoke vibrant imagination in every pastor and see new models emerge where photocopied strategies have kept us stuck.
We think you'll enjoy each release of the Unique 19. Every year we will highlight 19 different, unique churches. Throughout the year we will give a peak under the hood, a few churches at a time— different sizes, distinct locales and various faith tribes. What unique vision has God given to these pastors? What bold values and emerging strategies have come to life? How are leaders redefining the scorecard of business-as-usual church?  
May these stories stretch your mind and strengthen your heart!
The Unique 19 is brought to you by the team at Auxano. We navigate leaders through growth challenges with vision clarity. Learn more about Auxano.
Click to Download Published Issues:
2013 – Issue #4 – The Cove, WordServe, LakePointe Church, Harvest Christian Fellowship
2013 – Issue #3 – St. Andrew's Presbyterian, Renovatus, Scum of the Earth, Trinity Grace
2013 – Issue #2 – Northwest Bible Church, Mosaic Church, Redemption Church, 360 Church
2013 – Issue #1 – Meadow Heights, Revolution 216, Chapelwood UMC, Flood Church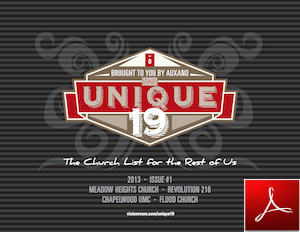 The 2013 Unique 19 Churches:
Chapelwood UMC, Houston, TX – A Grace-soaked culture leads to Grace-soaked lives
Revolution 216, Cleveland, OH – The hip hop church where misfits fit
Meadow Heights, MO – An unstoppable force in an improbable place
Flood Church, San Diego, CA – Reaching an unreached generation
Northwest Bible Church, Dallas, TX – Where it's OK to not be fine
Mosaic Church, Little Rock, AR – Pursuing unity to create real community transformation
Redemption Church, Tempe, AZ – We can accomplish more together than we can apart
360 Church, Sarasota, FL  – Building a courageous church with a 1-to-1 relational mindset
St. Andrews Presbyterian, Newport Beach, CA – Redefining the Good Life
Renovatus, Charlotte, NC – A church of people under renovation – liars, dreamers and misfits
Scum of the Earth, Denver, CO – A church for the right-brained and left-out
Trinity Grace, New York, NY – Joining God with the renewal of the city
The Cove, Moorseville, NC – 1,000 Neighborhood Campuses in Race City, USA
WordServe, Fulshear, TX – Typical Suburb, Totally New Scorecard
LakePointe Church, Little Rock, AR – Making it harder to go to hell in Hot Springs
Harvest Christian Fellowship, Plainview, TX – After the Father's heart amid the independence of west Texas
New City Church, Los Angeles, CA – Bringing together the forgotten and the fortunate across Los Angeles
Good Shepherd UMC, Charlotte, NC – De-weirding the Holy Spirit
Harvest Church, Billings, MT – Living the Way of Jesus, Out of the Way