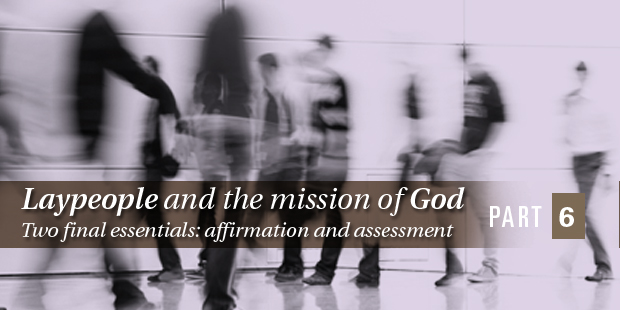 Laypeople and the Mission of God, Part 6
by: Ed Stetzer

Today I conclude my series on laypeople and the mission of God. I hope you have been challenged to rethink how you do church– there are far too many spectators and not enough participants in the mission of God. Through the series, I've shared many thoughts and ideas about the problem and how to address it.
I hope you will reconsider how you communicate and what you celebrate. And at least reconsider how you might be underutilizing God's most precious resource – the people sitting right under your nose next Sunday. Here are the final two ideas for changing your church culture.
3. Affirmation– Clear, ongoing affirmation of what people do is vital to changing culture. You celebrate what you value, and that must become part of your culture. Now, how do you do that? If you want to build a culture of ministry involvement, you need to do many things, but you certainly must affirm people and their ministry and mission involvement. For example, some of the best churches have 70-80% of their church family involved in meaningful ministry and mission.
In most churches it is not unusual to have the "announcement guy," pastor, or speaker give a passionate, "Thank you so much to our worship team! What a song!" But the worship team gets the most thanks of anybody. So your platform culture needs to include those guys and integrated that example naturally for other ministries and teams, too. How are you celebrating the people of God all throughout your church in that way?
For example: You could say, "Most of you were handed an information brochure (program or bulletin) today when you walked in the door to help you navigate your experience with us. A volunteer handed you that brochure. Also volunteers came here this week to copy and fold that brochure. Say thank you to them when you come back next week. We value volunteers and invite you to become one as well. You will love it. You can find more information by stopping by our welcome center or checking out our website." That's less than two minutes, and it makes a difference in shaping and reshaping your church culture. Be creative and naturally mention different volunteers each week from the platform. Tell their stories in your e-newsletters. What you celebrate, you become. What you celebrate gets done!
You can celebrate people serving one another, serving the poor, engaging in evangelism, and a hundred other things. At Grace Church, we give out a monthly award (trophy and all) to a couple of our team members. We try to mention partners regularly in our worship and community.
It matters– if the pastor and the worship team are the only ones getting mentioned then they are the only ones that people believe you value. That just reinforces the clergy / laity caste system that we need to kill.
Scripture guides us here:
"Now there are different gifts, but the same Spirit. There are different ministries, but the same Lord. And there are different activities, but the same God activates each gift in each person. A demonstration of the Spirit is given to each person to produce what is beneficial…
So the body is not one part but many…
But even more, those parts of the body that seem to be weaker are necessary. And those parts of the body that we think to be less honorable, we clothe these with greater honor, and our unpresentable parts have a better presentation. (1 Corinthians 12: 4-7, 14, 22-23)
When was the last time you celebrated those parts of the body that receive less honor? If it was not recently, start now!
4. Assessment– People who discover their spiritual gifts are mobilized more effectively. I am not totally convinced the specifics of spiritual gifts are always the key– people need more than knowledge of their gifts. Raising awareness of gifts raises people's awareness of God and His will for their lives, but they need something more.
People will not serve the church effectively long term simply because they know their gifts. In today's crazy two career, step-family, multiple ballpark and music lesson culture, people can easily know, but never use, their gifts.
However, awareness of gifts can help Christ-followers become aware of their personal responsibility to God. Gifts help people to know God has called them and given them the ability to respond to that call and to be used by God. But, that is just a start.
For example, if they came from unchurched backgrounds, they can be easily intimidated by standing at the door every week saying "hello" as people walk in. They need to be aware that the power of effective ministry comes from the indwelling presence of the Holy Spirit. The need to know of their gifts (knowledge) but must walk in the power of the One who gifts (empowerment).
Peter addressed the subject of spiritual gifts: "Based on the gift they have received, everyone should use it to serve others, as good managers of the varied grace of God" (1 Peter 4:10). Don't use that passage as a way to manipulate– but use it as a way to liberate. And what you say in your sermons creates culture in the same way as what the announcement guy says about the parking team before the sermon does.
Then Peter continued, "If anyone speaks, let him speak of the oracles of God. If anyone serves, let him serve from the strength God provides, so that in everything God may be glorified. To Him belong the glory and the honor, forever and ever, amen" (1 Peter 4:11). This passage says that– two broad categories of gifts, speaking and serving– both talk about the power of the Holy Spirit. And so the necessity of reliance on the power of the Holy Spirit is key in that process.
As you assess your ministry effectiveness asking the right questions is critical. Here is a good one. The late Peter Drucker, the famous business guru and consultant, provided a gift with this question: "If we were starting this again, would we do it the way we're doing it now?" Drucker suggested the answer will almost always be "no." The safest and best place to start your assessments is to bring the leaders into that conversation and be courageous enough to erase the board. Start all over again and be a part of something much bigger than you are now. Leverage a resource that you have undervalued– the people sitting right under your nose. The people God has sent you– which you are now responsible to send on!
Bill Hybels expressed his heart for every day Christians in his book The Volunteer Revolution: Unleashing the Power of Everybody.
The desire to be a world changer is planted in the heart of every human being, and that desire comes directly from the heart of God. We can suffocate that desire in selfishness, silence it with the chatter of competing demands, or bypass on the fast track to personal achievement. But it's still there. (p. 13-14)
If God has really put that in the heart of people our obsession should be to draw it out of them for the sake of the gospel and to the glory of God.
If you are a pastor, this is central to your job description. You are called to "equip God's people for works of ministry to build up the body of Christ" (Eph. 4:10). Yet, today, we have spectators, not equipped believers, and the body of Christ is weak and not built up.
For some, the answer is to abandon the structures of church and move to a simpler model (like "house" or "organic church"). I am OK with that, but I don't think it is God's call for all– and I want all churches to engage all God's people in mission. Yet, we can rethink our structures and approaches that produce passive spectators rather than active participants in the mission of God.
What do you think? One last thing which I almost forgot– I declare the term "laypeople" officially dead on my blog. Let's just call everyone "God's people." Some are pastors, some are not, but all are called to the ministry (1 Peter 4:10) and sent on mission (John 20:21). The only questions are to where, among whom, and doing what.
Let's build our ministries around the idea that people would say what Isaiah said: "Here I am Lord, send me."
To begin this series, go here.
Read more from Ed here.

Tags: Affirmation, Assessment, Ed Stetzer, Serve