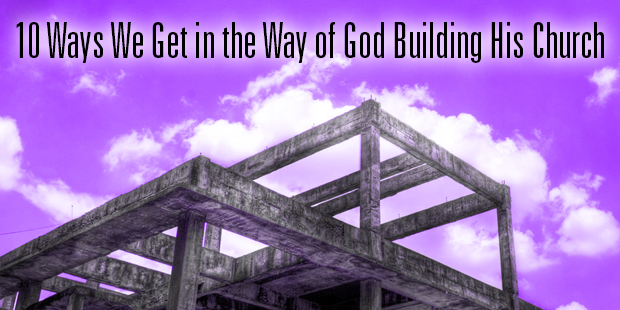 10 Ways We Get in the Way of God Building His Church
by: Will Mancini

Scriptures clearly remind us that God is building his church. But the reality of church can seem so contradictory to this truth. Reggie McNeal once wrote, "We have the best churches men can build, but we are still waiting for the church that only God can get the credit for."  When things don't go well at church, is it possible that we are getting in God's way?
The quote from Reggie  has been retweeted quite often. It got me thinking about theses question:
How am I unintentionally trying to build a church without God?
How I do become an obstacle to the Spirit's work, without realizing it?
I am making ministry harder than it should be?
As I reflected on the possible answers I become all too aware of my own failures and mistakes along the way. While tempted to do a short paragraph on each point,  I believe the single statements alone say enough!
10 Ways We Get in Way of God Building His Church:
Way #1: We rely on human wisdom, not God's, by copying what we see in other churches. 
Way #2: We misdirect our energies by confusing the ends and means of ministry.
Way #3: We use our ministry platform to display our gifts more than to develop the gifts of others.
Way #4: We avoid transparency thus making ourselves more than we really are. 
Way #5: We decide to stop growing thereby limiting  the growth of others around us. 
Way #6: We settle for ministry assignments that are disconnected from the entire rescue mission of redemptive history. 
Way #7: We choose denial instead of facing the answers to difficult questions.
Way #8: We use our influence to stay in a ministry position longer than we should.
Way #9:  We loose our love for people but pretend we don't.
Way #10: We take ourselves too seriously by not resting in weekly sabbath. 
Dear Father,
Please rescue us from ourselves. Forgive us when we unintentionally get in the way. We acknowledge that we can operate out of pride and self-strength as easily as we can be tempted by comfort and inaction. Thank your for the privilege of participation in your church-building, kingdom-expanding work on earth. We want to see you get all of the credit and work more than we could possibly dream!

Tags: Building His Church, Reggie McNeal, Will Mancini