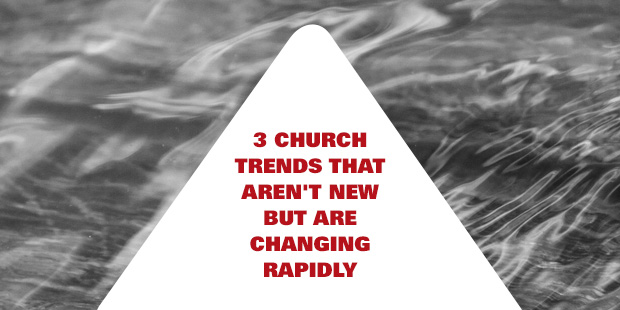 3 Church Trends That Aren't New But are Changing Rapidly
by: Thom Rainer

I am a trend watcher, particularly among churches in America. I am not particularly insightful or smart; I simply listen and speak to many churches. In fact, through my travels, blog, and other social media, I hear from thousands of church leaders every week.
The three church trends I've recently noticed are not new. What is new is that a relatively few churches embraced these concepts a few years ago. Today, they are becoming normative. These three approaches have moved from the category of "exception" to the category of "mainstream."
Changing Trend #1: Entry Point or New Member Classes
When I wrote High Expectations in 1999, I talked about the very early trend of churches requiring a class before granting membership to someone. In other words, a membership class was an emerging facet of expectations for church members.
Today, membership classes are pervasive. In an informal survey I did this year of churches with over 250 in worship attendance, more than 80 percent had some type of entry point class as a requisite for membership. In 1999, that number would have been less than 10 percent.
Changing Trend #2: Churches with Multiple Venues
I have to admit that the growth of multiple venues in churches has caught me by surprise. More and more churches have multiple campuses. More and more churches have multiple venues on the same campus.
One of the studies I am hoping to tackle in the next few months is the growth of larger churches with multiple venues versus the churches with one venue or site. I'll let you know how that develops.
Changing Trend #3: The Growth of the Executive Pastor Role
Just a few years ago, the executive pastor role was largely reserved for very large churches. Indeed, there was a time when I rarely saw an executive pastor on staff in a church under 3,000 in worship attendance.
If current trends continue, the executive pastor will become the second full time pastor to join a church staff in a majority of churches. That is quite a change from ten years ago! The executive pastor is now seen as a complement to the senior pastor. In other words, the executive pastor is typically gifted and wired in ways that the senior pastor is not.
As a consequence, executive pastors are becoming more common in smaller churches, even churches with less than 200 in attendance. Watch for this new trend to grow.
What do you think of these three new changing trends?
Keep in mind, the trend itself is not new; it's the growth rate of the trend. What would you add?
Read more from Thom here.

Tags: Entry Point Classes, Executive Pastors, Ministry Trends, Multiple Venue Churches, Thom