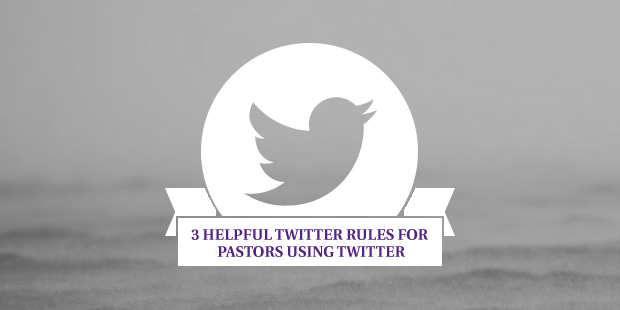 3 Helpful Rules for Pastors Using Twitter
by: Anthony Coppedge

If your pastor is new to Twitter or hasn't found a good rhythm of how to use it, try my 30/50/20 rule for Pastors using Twitter:
30% message application: Drop hints in your weekend message that you'll be tweeting life application from the sermon topic every day for the upcoming week. This helps engage those in audience (especially those via broadcast) who can be encouraged and have practical application for the past weekend's message M-F. It also, obviously, has the added benefit of increasing followers.
50% family/personal life: People want to feel like they know their pastors. Since you live in a glass-house anyway, offer them the view you want to share as you live life transparently. Not everyone can get to spend 1-on-1 time with you. Yet when you share "life", they do feel like you're more their pastor than just a pastor.
20% inspiration/information (including ReTweets): You don't have all the answers, and you're learning, too. Be human and share what's inspiring/challenging you and who you're learning from. This applies to all of us. Those who only tweet their own thoughts, promote their own events and don't reply to others from time to time are missing the point of social media: engagement.
What other helpful practices have you found in using your personal Twitter account?
Read more from Anthony here.

Tags: Anthony Coppedge, Attention, Awareness, Social Media, Twitter