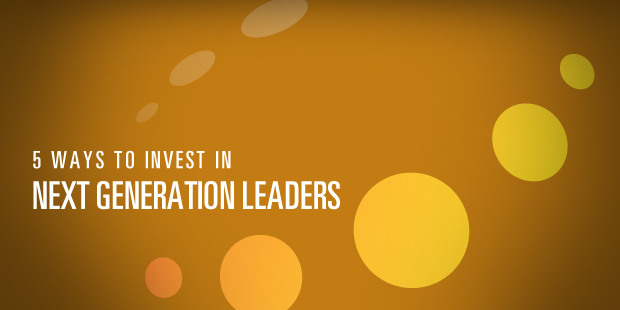 5 Ways to Invest in Next Generation Ministry Leaders
by: Center for Creative Leadership

It's never too early to learn leadership, according to a CCL survey.Fully 90 percent of respondents believe leadership development should start before age 18 — and certainly should be part of early-career learning.The study, and CCL's work with youth and young professionals, gives insight into what leadership skills matter most and how organizations can invest in next-generation leaders.What should youth leadership development be developing?Our survey — along with growing interest in CCL's leadership initiatives for K-12 and university groups — clearly signals the need for leadership development to be a part of every student's educational experience. If so, what should be the focus of youth leadership efforts?

One way to look at it is to consider what leadership skills young people need to enter the workforce. Here's what we found from our survey.

The five most important competencies for young people entering the workforce today are:
Self-motivation/Discipline
Effective Communication
Learning Agility
Self-awareness
Adaptability/Versatility
In comparison, the five most important competencies for young people entering the workforce 20 years ago were:
Technical Mastery
Self-motivation/Discipline
Confidence
Effective Communication
Resourcefulness
Looking ahead, in 10 years the most important competencies will be:
Adaptability/Versatility
Effective Communication
Learning Agility
Multi-cultural Awareness
Self-motivation/Discipline
Collaboration
Notice that effective communication and self-motivation/discipline appear on all three lists — these may be core and enduring competencies that could receive more developmental focus during the high school and college years. Learning agility, too, is a "master" competency or core skill that fuels other skills and allows us to learn from experience.
Two competencies that appear on this future skills list — multi-cultural awareness and collaboration — are driven by the increasing interconnectivity and interdependence of our work and lives. Fortunately, these skills can easily be developed through project-based learning in high school and college, as well as through early leader development experiences in organizations.
What can organizations do to develop next-generation leaders?
Seek new and creative ways to partner with educational institutions — universities and K-12 — to better prepare young leaders.
Provide support to existing youth leadership programs run by nonprofits and schools. Good programs exist but reach far too few students and are usually under-resourced.
Establish two-way, cross-generational leadership and mentoring programs. Pair a young person, either just in the workforce or soon to enter the workforce, with an older, experienced employee for co-mentoring.
Provide leadership opportunities. Be sure your early-career employees have mentors and bosses who know how to develop others and will give them opportunities to practice their skills in a real leadership context.
Encourage employees to "own" their leadership role and development. Help people (at all levels in the organization) see themselves as the person in charge of their job, in coordination with others on the team and in alignment with the organization's goals.
Read more from the Center for Creative Leadership here.

Tags: Leadership Development, Leadership Engine, Staff Development