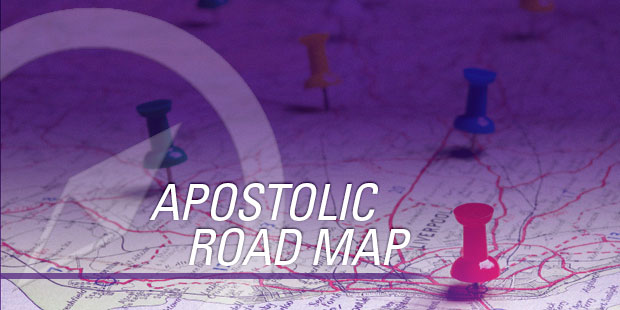 Apostolic Road Map
by: Alan Hirsch

Why I do the things I do.
Many people ask me whether there is some reason and logic of my various writings or whether they are random reflections on various subjects related to the missional church. Given that with the publication of The Permanent Revolution in February, I have completed my "library" of missional books, I thought that it is well worth explaining the rationale for my authorship to this stage. So for those who are interested, this is how it goes….
The Shaping of Things to Come: Innovation and Mission for the 21st Century Church is really a foundational book and is considered seminal in setting the incarnational-mission conversation in the West. It really is scaffolding with which we can go about reconstructing our way of being along missional lines. It covers areas of incarnational mission, messianic spirituality, and innovative leadership, but redesigns these clearly along missional lines. I believe that the ideas therein are as valid as ever, and Baker is drafting a second, fully updated, edition as I write, so look for it. However, it is worth saying that it was written to help church planters to think like missionaries in the West as the assumptions behind the more formulaic church growth type approaches were no longer valid in our context. This has proved more and more true as we have advanced into the 21st Century. I have to admit that we (Mike and I) never expected the established church would take it seriously. The intended pioneering audience, along with the keen sense of urgency with which we wrote the book, can explain the overly revolutionary tone of the book…an element I correct somewhat in my later work On The Verge.
The Forgotten Ways: Reactivating the Missional Church to be my centerpiece book…in many ways my magnum opus. The heart of this book is what can be called a "phenomenology of apostolic movement." In other words, what factors come together to generate high impact, exponentially explosive, spiritually vibrant, Jesus movements in any time and context. Because of its systematic and somewhat comprehensive nature (it identifies a system of six elements called mDNA arranged in a dynamic system) it acts as the organizing ideas that guide the rest of my writings. As I have become more and more convinced of the validity of the core ideas laid down in this book I committed myself to elaborate on these in the six books that follow. Readers of my other works should always have this as the guiding reference work.
The book ReJesus: A Wild Messiah for a Missional Church (with Mike Frost) is all about the central and definitive role that Jesus plays in all movements that claim his name. It is a serious elaboration of the element (called an mDNA) in The Forgotten Ways which I tagged as 'Jesus is Lord!' In this serious book we explain why we believe that it is primarily Christology that must define the core nature, purpose, and mission of the church. We are a messianic movement after all. Therefore all renewal must in the deepest possible sense involve a recovery of the role and significance of Jesus for discipleship, spirituality, theology, community, and mission.
My book Untamed: Reactivating a Missional Form of Discipleship (with my beloved wife Deb) takes a somewhat different approach to the standard spiritual disciplines or teaching the 'heads of doctrine' approach to discipleship and formation. While not denying the validity of these, we suggest that certain things, ideas, and relationships intrude themselves into the God-relationship and block our capacity to be all that Jesus intended us to be. We believe that by identifying these hindrances, and moving beyond them, opens us up to becoming impactful followers of Jesus. Essentially it is an anatomy of modern idolatry and an exploration of what we call Shema spirituality—understanding the nature of dynamic monotheism, loving God with all that we are, and our neighbors as self. This book elaborates on the mDNA of discipleship and disciple-making. It is designed to be very accessible to Christians wanting to grow in their love of God.
Right Here Right Now: Everyday Mission for Everyday People (with Lance Ford) is pretty much as the title suggests. As an elaboration of the mDNA of incarnational mission, it is a very practical book about how to get (and stay) engaged in everyday mission and make a Kingdom difference in the various arenas of life. Anyone should be able to read and engage the ideas in this book. In many ways it aims at activating the whole people of God (and not just leadership) into the missional equation. This is a huge missing piece in terms of movement dynamics.
My latest offering, The Permanent Revolution: Apostolic Imagination and Practice for the 21st Century Church is the book that focuses on the nature of ministry and leadership within (and for) apostolic movements. Coming out in February 2012, the book focuses on apostolic leadership in particular, but it does so within the broader context of fivefold gifting complex set out by Paul in his foundational work on ecclesiology…Ephesians. It's a big book in every way; weighty in content, unavoidable in its logic, and provides a strongly dissenting alternative to the prevailing forms of leadership in the church. It is likely to be a pretty controversial but will hopefully recalibrate the way we think about, and do, ministry and leadership in the 21st Century. It correlates to the mDNA of apostolic environment in The Forgotten Ways.
My book On the Verge: The Future of the Church as Apostolic Movement, written with mega-church, multi-site, church planting movement leader Dave Ferguson, is all about organizational dynamics and change particularly as it relates to established, and relatively successful, forms of contemporary church (although it is by no means limited to them.) The book is thoroughgoing exploration of the nature of paradigms and paradigmatic change, change management and process, innovation of new forms and ideas, and of creating movement dynamics in large and complex systems. This is at least in part an elaboration on the mDNA of Organic Systems.
The Faith of Leap: Embracing a Theology of Risk, Adventure & Courage (once again with Mike Frost) started as a project to simply elaborate the mDNA of Communitas—that form of togetherness/communality that happens in the context of an ordeal, danger, risk, and challenge. But we soon realized that it meant that we had to look more deeply at the nature of adventure, risk, and courage and how it changes the equation of church, discipleship, spirituality, leadership, and yes…even our most basic theology. Its an exciting book with huge implications for how we ought to think of ourselves and how we should act in the world.
And lastly, but by no means least, there's The Forgotten Ways Handbook: A Practical Guide for Developing Missional Churches. Written with the help of my old friend and collaborator Darryn Altclass, this book is meant to be as thoroughly practical as the primary text The Forgotten Ways is theoretical. It is a literal cornucopia of suggestions, ideas, practices, and possibilities that can embed missional ideas and a movemental ethos in local churches and organizations. Designed for group work and discussion, it is a great compliment to both the primary text and On The Verge.
I think that with the above output, I have produced the necessary material that God has commissioned me to do at this stage of my life. I wholeheartedly believe that the form of the church that will advance the cause of Jesus in the 21st (and reverse the decline of the church at the same time) is that of the apostolic movement with all its spiritual dynamism and missional energy. But our imaginations have become so captive to a more static and more regulated form of the church. All these books, read individually, but especially when taken together, present a comprehensive, alternative, primal, vision of the church as a dynamic, high-impact, spiritually authentic, and sustainable, people movement in the Way of Jesus our Founder.
Read more from Alan here.

Tags: Alan Hirsch, Apostolic, Missional