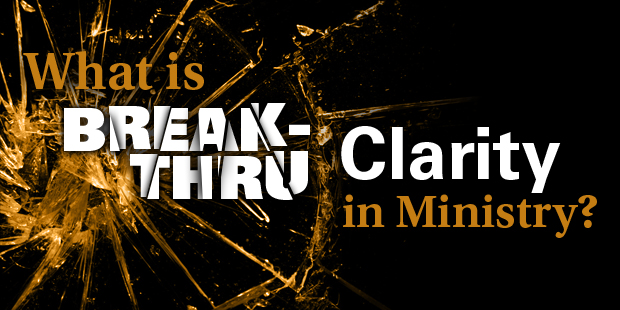 What is Break-thru Clarity in Ministry?
by: Will Mancini

Break-thru clarity is a simple thing that makes a huge impact in your life.  It's a powerful thing that will dramatically change your ministry.
Most of our days are filled with the daily stuff. And the daily stuff is always pushing you here and pulling you there.  Sunday is coming. People are needy. There's never enough time. Church life goes on.
Amidst this daily rhythm—sometimes flow and sometimes grind—we find the beauty and blessing of break-thru clarity. Maybe it's easiest to describe what it feels like when you have it.
It's the power of seeing the same things in a whole new way.
It's the surge of energy that rushes through you and doesn't seem to stop.
It's the freedom of perspective that suddenly makes prioritization easy.
It's the satisfaction that comes when the staffing puzzle finally make sense.
It's the confidence of a much more vivid 3-year vision.
It's the thrill of a team that wins, again and again.
When God brings you break-thru clarity, nothing feels better.
But for most of us, too much time has passed since our last break-thru. The funny thing about break-thru is that we forget what it feels like; we forget how bad we need it.
How does this happen? Once we taste a little bit of success in ministry, which is always nice, there is plenty to work on. Something is going well and that is good enough. We stay busy. We start something new. We grow. We start another thing. We hire another staff person.
Or maybe you inherit a church with a legacy or we attain a position with prior influence. There's a lot to protect, a budget to steward. There are expectations from the past and assumptions about the future built into every conversation.
The end result is the same. While you read this there are a hundred other things to read and a thousand other things to do. And you aren't the only one person in the equation. Your church has other leaders, lots of volunteers and other staff.  They too have thousand things to do to.
 This collective activity becomes the enemy of break-thru clarity. Just imagine…
When a potential member asks a question like "Who are we as a church?" or  "Where is God taking us?" what do you say?
If someone throws a curveball into the conversation like,  "Are we really making disciples?"  how do you respond?
When an elder asks, with a hint of sarcasm "What is our priority for this year?" What's the next word out of your mouth?
Break-thru clarity is about living and leading with answers to questions like these.  Break-thru clarity is both something you experience and something you have as a team.
What is break-thru clarity?
It is a God-given idea, well understood and skillfully articulated, that brings notable and immediate progress toward realizing your vision.
A simple conviction drives us on the Auxano team: Life is short enough and ministry is hard enough not to have break-thru clarity.  We exist because break-thru does not; or at least not often enough.
When's the last time your team experienced break-thru clarity?  Where in your ministry could you use break-thru today?
To connect with me and the team at Auxano about break-thru clarity, fill out this short form below.

Tags: Break-thru Clarity, Vision Pathway, Will Mancini