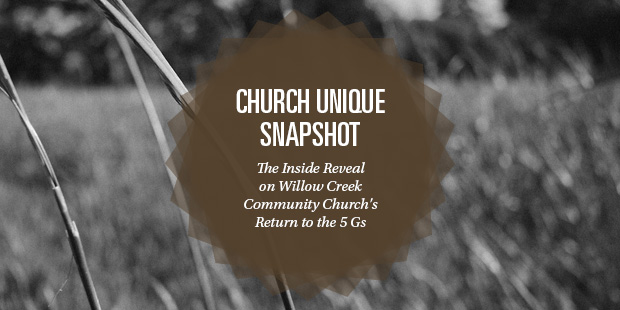 Church Unique Snapshot: The Inside Reveal on Willow Creek Community Church's Return to the 5 G's
by: Will Mancini

During the booming days of Willow Creek's influence, the church hosted conferences for thousands of church leaders across the country, teaching and spreading their model of ministry. The hallmark of these events was an inspiring and contagious use of crystal clear language and rich imagery that planted the Willow's Vision Frame in the hearts and minds of church leaders.
What did that content include?
WILLOW'S 1990s VISION FRAME
MISSION – To turn irreligious people into fully devoted followers of Christ. (the term "fully devoted follower" is most photocopied mission statement of the last three decades)
VALUES- There were ten values that are still intact today, the most memorable (and photocopied) including
Lost people matter to God and therefore matter to us
Full devotion is normal for every believer (95% devotion is 5% short)
Life change happens best in small groups
Excellence honors God and inspires people
STRATEGY- Willow taught a 7-step linear strategy for years, which became de-emphasized around the year 2000
MISSION MEASURES- The definition of "full devotion" was based on 5 G-terms that were deeply integrated into the life of the church. During the late 90s there were entire sub-ministry conferences including Small Groups and Children (Promiseland) that produced tons of curriculum utilizing the 5G's
Grace
Growth
Groups
Gifts
Good Stewardship
Many churches also copied or modified these G-terms for use in their ministry. For example, Clear Creek Community Church in Houston utilizes a revised 7G list and Grace Point in San Antonio has 5Gs they have modified.
LOSS OF CLARITY
At some point Willow stopped talking about the 5Gs even though they continued selling 5G based products all over the world. The loss of clarity at Willow is a complex subject. I have had the privilege of talking to many people through the journey. This list summarizes a few reasons that surfaced over the last decade. Note: I appreciate the humility of many of these leaders who have testified to these learnings in public at different times and places.
Bill Hybels began traveling more internationally and got distracted from leading the church.
Staff turnover hurt the church's opportunity to stay focused. They lost three senior leaders in a two month window.
The seeker model went out of vogue. With the beginning of a missional reorientation, lots of leaders lost interest in learning from the model. (Some of the this was the saturation of its own success.
After launching their first multi-site initiatives, Jim Tomberlin departed; Bill Donahue, their long-term groups guru, departed.
Randy Frazee came for 2 years with an entirely different mission measure. He was given permission to undo the 5G's and install his 30 core competencies from Pantego Bible Church.  But the installation of a neighborhood small group strategy did not work, further unraveling their clarity.
Greg Hawkins began the extensive research project represented by the Reveal Study and followed up by the book, Move (a must read book, by the way). After one-on-one conversation with Greg, I am convinced that his humble and passionate pursuit of learning (and brilliant findings) happened at the expense of  increased complexity of Willow's ministry and less clarity in their language.
FIVE G'S REINSTATED
Three months ago, the senior team at Willow decided to bring back the 5Gs. When I asked Greg Hawkins why, he summarized his answer by saying,
"People need some kind of 'handles' to define full devotion. We had this language for years and then just stopped using it. We realized we didn't have to reinvent the words, so we decided to bring them back."
I was totally surprised to hear the news. Evidently much of the work represented by Reveal, and specifically the four stages of the "spiritual continuum" (Exploring Christ, Growing in Christ, Close to Christ and Christ-centered), did not create new language for guiding ministry and shaping culture.
PRIMARY TAKE-AWAYS
We say at Auxano that "Success assaults clarity." Clearly Willow was a victim of its own success and was not able to manage the "opportunity creep" of its most influential years.
Be careful hiring outside talent. A shooting star in a different church culture may flame out in yours.
Don't take your "eye off the ball" when it comes to language. Hybel's first Axiom in his leadership book of 72 leadership principles  is "Language Matters." Given the number of Axioms in the book we will cut Bill some slack on forgetting this one for the last decade.
Don't communicate vision or create new language without process. In this case at Willow, it applies several ways. First, new language was brought in without due process, including Randy Frazee's 30 core competencies and perhaps the Reveal language introduced by Greg Hawkins.  Now with a decade gap, I am wondering if they moved too quickly to return the the 5G's. I talked with one relatively high-level staff member who was struggling with the language. There was no vehicle for his interaction and input.
Please don't mistake the critique in this post for a lack of appreciation for the role of the seeker model. Also, I am personally grateful to Bill Hybels for his giant kingdom contribution and thought leadership on leadership.  Thousands of us are better leaders, whether we drive seeker models or not, because of Willow's influence.
TOOLS
Read Bill Hybels excerpt on  Language Matters
Read Church Unique Tool on Measures as the Portrait of Discipleship (includes the 5Gs and 30 Core Competencies)
Read more from Will here.

Tags: Bill Hybels, Church Unique Snapshot, Vision Frame, Will Mancini, Willow Creek