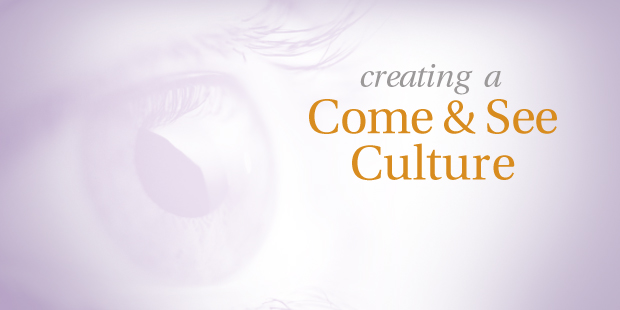 Creating a Come and See Culture
by: Rob Cizek

II. AN ENGAGING PRESENTATION
A. Engaging presentations are central to the success of our mission.
Presenting the Gospel is a primary responsibility of the church. We are the only organization charged with that responsibility.
"Teaching them to obey everything I have commanded you" is the  unique responsibility of the church. (Matthew 28:20)
B. To engage is to secure one's attention. In presentation, truth isn't enough. It needs to be engaging. This is important to consider when deciding who is speaking, singing and presenting.
C. Generally speaking, it's the presentation that makes information interesting. People usually eat either chicken, beef or fish. You determine what restaurant to eat at based on their presentation of the chicken, beef or fish. Presentation makes things interesting. Jesus made his content different than the teachers of his time. The audience attention span is determined by the quality of the presentation.
Engaging presentations require engaging presenters or an engaging means of presentation. Some people write good lessons, others present in an engaging manner. Separate the two. Let the good writers write, then turn it over to the good presenters for presenation.
QUESTIONS
Is your culture characterized by a relentless commitment to engaging presentation at every level of the organization?
Does your system allow you to put your best presenters in your most strategic presentation environments?
Are your presenters evaluated and coached?
Does your system create opportunities for your best content creators to partner with your presenters?
III. HELPFUL
A. Helpful = Useful
B. Helpful content is content that directly addresses thinking and living. It challenges people to think different or act different.
C. Content should be age targeted and specific.
Is your content helpful? Presentation, not content, determines interest. Information that does not address a felt need is perceived as irrelevant.
Do your content creators and communicators understand that the goals are renewed minds and changed behaviors?
Is your content age and stage-of-life specific?
CONCLUSION:
Of every environment, program and production ask:
Was the context appealing? Was the setting engaging?
Was the presentation engaging?
Was the content helpful?
This gets everyone thinking the same way. This is a clear filter to evaluate wins at North Point.
How are you creating a come and see culture at your church?
Read Page 1 here.
Read more from Rob here.

Tags: Andy Stanley, Physical, Rob Cizek, Setting