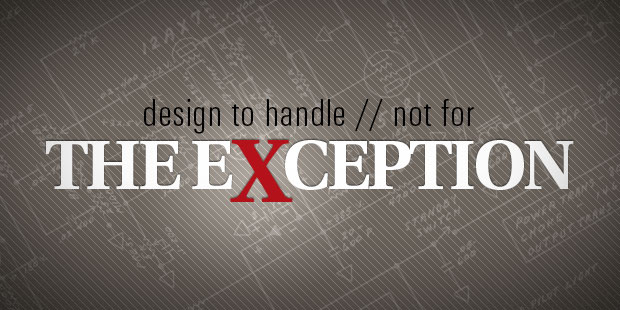 Design to Handle the Exception – Not for the Exception
by: Stephen Shapiro

While going through security at the airport the other day, I was reminded of an important design and innovation concept.
Things were going smoothly until a bag was flagged during the X-ray procedure. The luggage was held on the conveyor until an authority could conduct a manual inspection. At the same time, a similar problem arose on another line. Everything ground to a complete halt. Although it took only 5 minutes to get the lines moving again, during rush hour that was all it took for the queues to grow out of control.
Many years back, a supervisor shared with me a design principle I still use 25 years later: design to handle the exception, not for the exception. That is, don't design your business model around the most complicated case. Instead, design it so that the exceptions can be addressed, even if their efficiency is impacted.
When designers try to make one process cover every situation, no matter how rare or unusual, the result is usually greatly increased complexity and diminishing returns for everyone.
Using my supervisor's mantra, this airport dilemma differently would be solved by pulling off the bags that need manual inspections (the exceptions) into a separate area. Even if those bags would have to wait longer to be processed, they wouldn't impact the bulk of the customers and would significantly speed up average wait times. Those travelers with the exception bags may be more inconvenienced than they are today, but perhaps knowing that you will be significantly slowed may encourage people to be more careful with what they put in their luggage.
How can this be applied elsewhere?
A major life insurance company found that its claims handling was slow and expensive. What they discovered was that every claim was being processed using the same rigorous procedures. But all claims did not need to be treated equally.
To improve efficiency, they scaled down the process and segmented claims according to their level of complexity. A simple version was used for straightforward cases. More robust versions were used for more complicated cases, while the full process was reserved only for the most difficult and time-consuming cases.  The most skilled and expensive specialists would resolve these complex claims while generalists handled the easiest ones.
What they found was that 60 percent of their cases could be handled using the simplest process with the least expensive resources. Thirty percent received the mid-level procedure, while only 10 percent needed the original full treatment. The result? Processing costs were reduced by 40 percent while average processing time was greatly reduced. Service levels also increased.
So how does this apply to your business?
Look at your customers. Which customers account for the bulk of your business? Which customers account for the bulk of your profits? Design your business to meet their needs. If you have other, less frequent needs, find a way of handling them outside of your standard processes, even if the cost is greater (to you or the customer) and the convenience is lower.
If you run a restaurant and 80 percent of your customers order the same five menu items, make sure you can inexpensively and efficiently cook those meals. For patrons who want items less frequently ordered, maybe they can pay a premium or wait a bit longer. Additionally, instead of keeping perishable ingredients in house for those rarely ordered meals, maybe you can find a nearby store where you can buy them just-in-time when needed.
If you run a call center, handle the most frequent calls efficiently without hand-off. Have generalists address the bulk of your calls. For the more complicated and less frequent issues, forward the call to a specialist. Even if the customer has to wait or be called back, it will significantly improve your overall call processing time and costs.
If you run a supermarket and someone purchases alcohol, they need to be approved by someone who is 21. If the clerk is not of age and needs to call for backup, the lines will be slowed for all.  Instead, you could require anyone buying alcohol to use special lines manned with cashiers who are all 21 or over, since they're the exception.
Figure out what happens most frequently. Design your business for those scenarios. Identify the less frequent occurrences and make sure you can handle them, recognizing that an increase in time and/or cost for these exceptions may be necessary.
Have you inadvertently fallen into a "one-size-fits-all" mentality? Instead, consider applying the "design to handle the exception, not for the exception" philosophy and keep your business running smoothly.
Read more by Stephen here.

Tags: Design, Organization, Stephen Shapiro, Structure