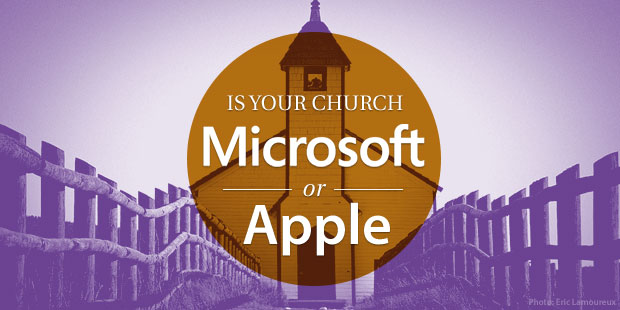 Is Your Church Microsoft or Apple?
by: Geoff Surratt

For many years I was a Microsoft devotee. I laughed at all the Apple fanboys to the point that when I met one of Steve Jobs right hand guys I proudly announced, "I'm a PC". (I'm special that way) But in my old age I have seen the light. I now have a Mac and two iPads, my only non-Cupertino inspired device is my Samsung Galaxy S III. I kind of like the Google map app that actually gets me to my destination. Which sort of gets me to my point.
Microsoft and Apple have two very different philosophies about when to ship. Microsoft ships as soon as its good enough and then offers patches and fixes as bugs are discovered in the software. Microsoft software always kind of sort of works. Apple, on the other hand, ships when its perfect. They have a near zero tolerance policy for bugs and defects. Steve Jobs was always willing to stop everything until they got it exactly right. It is this dedication to perfection that led to my defection to the cult of Apple.
The challenge with the Apple approach is that it absolutely, positively has to be perfect right out of the box. Us fanboys won't tolerate iterations, updates or patches. We want excellence served in an exquisite black or white box. That's why Apple Maps was such a crushing disaster. If it were Microsoft we would expect the Denver airport to be missing the first time, we'd know they'd find it eventually. For Apple that kind of imperfection is intolerable.
Over the past 20 years we have seen the Apple-ification of the church. We have convinced ourselves and the attenders that God deserves, nay, demands excellence. The lights, the sound the video should be the best of any venue in town. Every weekend should be more amazing than the weekend before. ("I'm so excited about this weekend I'm about to wet myself!!") The sermon should be spell-binding and funny and heart wrenching every week. As pastors we can be transparent and authentic as long as everyone knows that under that veneer of "real" is a substrate of "really good".
I've come to realize that as much as I want to be Apple I'm really Microsoft. I put out the best that I can, but my best will always have flaws and be full of bugs and it will need frequent updates, patches and fixes. My best never comes in a shiny white box with invisible flaps and secret compartments, my best comes on a paper plate with pizza stains on the edges. Its kind of a relief to be honest. Trying to be Apple all the time is exhausting.
Right before my pastor went on stage this past weekend I asked him if the message was going to be any good? He responded immediately, "Not really, mediocre at best." He was wrong, it was an amazing message, but I love attending a church with a Microsoft attitude. They do their best, but we all know its never perfect. And that's ok, that's how we all are.
Just don't take away my iPad.
Read more from Geoff here.

Tags: Authentic Leadership, Geoff Surratt, Staff, Structure