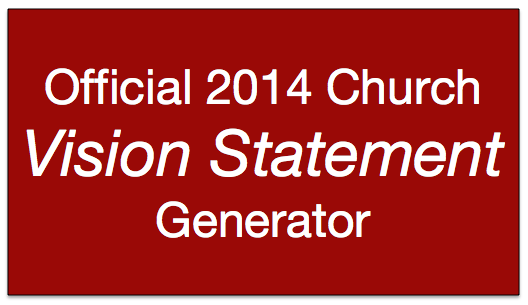 Official 2014 Church Vision Statement Generator
by: Bryan Rose

Note from the Vision Room Curator: This post originally ran on New Years's Eve, but it was so well-received our team decided to roll it out again today. We hope you will take a little time to enjoy this tongue-in-cheek look at church vision statements.
This last week, amidst some post-holiday-meal stupor, a myriad of Facebook feed "name generators" caught my attention. From Elf Names to Blues Names to Wu-Tang Names, using random details to create identity has never been so easy.
In light of this, and the fact that right now, many Pastors and leaders are doing some reflecting and planning for 2014, I am pleased to present the OFFICIAL 2014 Church Vision Statement Generator (click image to enlarge).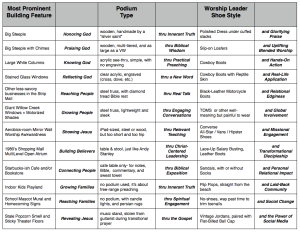 Sadly, more often than not, it seems like actual church Vision and Mission Statements are crafted by methods just as random and meaningless.
> Truth: God has more for your church in 2014 than powerless statements disconnected from actual ministry.
This Spring, Auxano will be hosting 12 church teams as they pursue a Vision Frame for ministry that connects missional calling to disciple-making action. Together, we will pursue unique answers to the 5 Irreducible Questions of Leadership that define and align each church around its Great Commission call.
>> How will you craft meaningful vision for your church this year?
Learn more about Auxano's Nashville Vision co::Lab here.

Tags: Bryan Rose, Vision Statement Generator