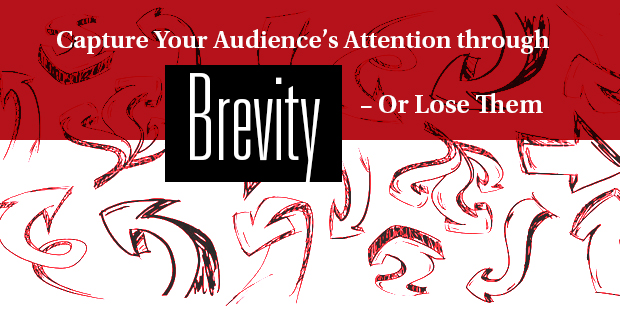 Capture Your Audience's Attention through Brevity – or Lose Them
by: Joe McCormack

Are you guilty of committing one or more of the following seven capital sins of brevity?
Cowardice
Confidence
Callousness
Comfort
Confusion
Complication
Carelessness
The world today is full of information overload and there is not enough time to sift through it. If you cannot capture people's attention and deliver your message with brevity, you'll lose them.
For starters, the discipline to capture and manage elusive mindshare now shapes and defines professional success. Shorter e-mails, better organized updates, and tighter and more engaging presentations are immediate indicators that you've got what it takes to succeed in an attention economy.
Getting to the point is a non-negotiable standard.
Ten years ago, brevity was a nicety and meant primarily for long-winded types that couldn't shut up. Today, being clear and concise is an absolute necessity; it's what successful people expect to see—and get quickly frustrated when it's missing.
>> Download more about the concept of brevity by author and narrative storyteller Joe McCormack.

Tags: Attention, Awareness, Joe McCormack