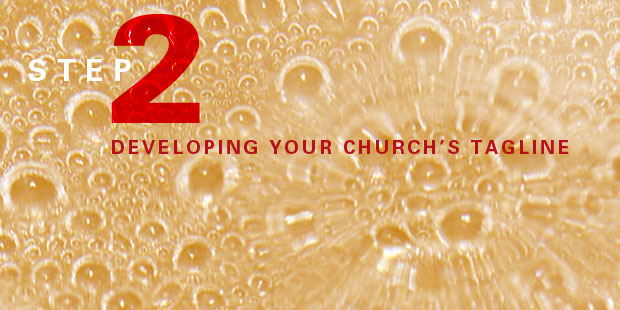 Taking Vision Public, Step 2: Developing Your Church's Tagline
by: Will Mancini

How do you take your vision public? How do you communicate it clearly and in a way that compels your audience to join in and be a part of it? The answer is what I'm calling "vision-soaked communication." Last time, we looked at filling the pool by articulating your unique vision in the Vision Frame. This time, we'll boil it down by looking at how to develop a strong tagline. I've already written a series of posts on the tagline process, so in this post, we'll  look at the specific example of Vanguard University and how their tagline serves to communicate their vision.
In our last post, I shared the Vanguard Vision Frame. With that as background, let's look at Vanguard's new tagline.
This tagline was born in a unique way – it came when one of our team members was listening to a Vanguard alum present a work of art she had recently created. It was a video that chronicled the stories of a few Vanguard students and alumni—how God was using their lives to make a difference in the world. She made a statement in her introduction that immediately jumped out at us as the core statement and invitation that Vanguard is making with their vision. She said, "Your story matters at Vanguard." The team member scribbled it down as soon as she said it: "Your story matters." Although we eventually landed on "your story matters" as the tagline, it was one of dozens of ideas we brainstormed and considered as a team.
If you remember, the mission statement of Vanguard hangs on two words: "equipping students." The word "equip" comes from a sailing term that was used to describe the process of preparing a ship for a journey. But why is equipping students important? Why is it worth being a part of? Because the story of every student matters.
As we worked through "your story matters" as the potential tagline for Vanguard, we developed a paragraph that articulates the compelling nature of the tagline, illustrating the direct connection to the mission.
Your Story Matters
At Vanguard, your story matters. Where have you been? What are the experiences God has used to shape and prepare you? We care about your story, about who God is making you to be. And we want to equip you—to give you the skills, knowledge, and experience you need—for the journey God specifically has for you. More importantly, your story matters after you leave Vanguard. Our alumni are making a difference in education, the arts, ministry, business, and more. They've been prepared for a Spirit-empowered life of Christ-centered leadership and service here at VU, and God is using them in powerful ways to shape this world. Your story matters. Where will it take you next?
Do you see how the tagline functions as both a statement of fact and an invitation to discover more? And, by pairing it with the simple question, "Where will it take you next?" we set the foundation for the specific key messages we want to share with Vanguard's audiences. (We'll look at the key messages next time.)
When you take your vision public, your tagline needs to boil your vision down to its essence. Why should people care that you exist? How will you invite them to be a part of what you are doing? The tagline can't answer every question in great detail, but it should serve as an emotive and compelling invitation for your audience to learn more about who you are and why you exist. It can become a kind of rallying cry that reminds people of your mission and vision that you can return to again and again.
Now that we've filled the pool and boiled it down, next time, we'll talk about how to describe the water by crafting your key messages. Each of these pieces is critical to vision-soaked communication.

Tags: Awareness, Taking Your Vision Public, Will Mancini