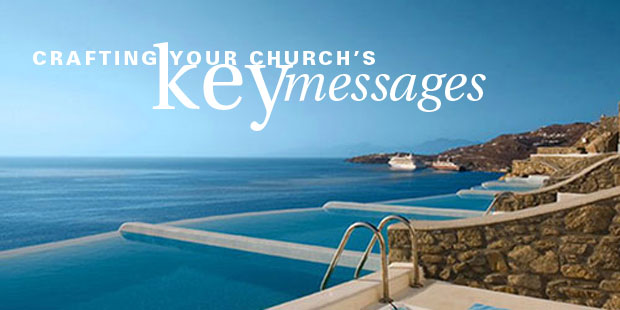 Taking Your Vision Public, Step 3: Crafting Your Church's Key Messages
by: Will Mancini

In our journey toward Vision-Soaked Communication, we've filled the pool by articulating vision and boiled it down to a great tagline. Step 3 is like describing the water: crafting your church's key messages. In this step, we'll talk about how to develop key messages that describe your unique vision and personality as an organization. Remember, this is all about Taking Vision Public with communication that is soaked with vision, so we're thinking first about the external audience that doesn't know much about you.
If your vision is like a pool, your key messages describe the water. What makes your pool unique? What will it be like when people jump in? Good key messages begin to answer these questions. Below are 5 stages of vision-soaked key message development. Let's dive in. (I couldn't resist.)
1. List key words and concepts.
Start the key message development process by gathering a long list of words and concepts that are a part of a church or organization's brand. This list may have 70-100 words and include descriptors like energetic, warm, and diverse and concepts like transformation, discipleship, and service. You can pull these words from your Vision Frame and other language you've developed for your church. It's amazing how different churches end up with lists of words and concepts that are very different (with some overlap, of course), which reflect their unique personalities.

2. Force-prioritize the list.
You can't have 70-100 key messages. You can realistically only have 4 or 5 (6 at the most). So, prioritize the list of words and concepts you've developed, weeding out words that don't convey your unique mission and personality. Also, look for different words or concepts that convey the same idea like "transformation" and "life-change." Delete one of them from the list, keeping the one that is more consistent with your Vision Frame language and internal vocabulary. Repeat this process until you have only 7-10 words left in the list.
3. Define the categories.
Usually, by this point, the final 7-10 words from your list will fall into 4 or 5 categories. Those categories are the foundation of your key messages. List the categories on a separate page—don't worry about specific wording yet, just capture the concepts. As you look at this list, ask yourself, "Are these true of us?" The last thing you want to do is develop key messages that sound good but describe something your church can't deliver.
4. Create the language.
This is where you need to tap into your creativity. Each key message should stand on it's own, but the best key messages also have a connection with the others. Symmetry in structure is good (adjective/noun like "Inspiring Community") and memorable is even better. Memorable messaging usually involves some sort of interesting twist on language that makes the audience pause and say, "Hmm. That's interesting." Even the phrase above, "inspiring community" has a small twist in that the word "inspiring" can have multiple meanings. If you're not a writer, find one in your church who can help with this. Remember – the key messages are primarily for your external audience, so try to stay away from Christianese and phrases that people outside of your congregation won't understand. Make sure to remember to articulate the problem you exist to solve. This is so important that we've devoted the whole next step to it – Tap into the Thirst. We'll look at that in more detail next time.
5. Revise, revise, revise.
The first draft is only rarely the best draft. When you invite others to review and give comments, hold your ideas with an open hand. If there are things about them that aren't resonating with the team, that's fine. Always remember—there's another idea. The ones you've come up with to this point aren't the only ideas that exist…you can find new ideas. So, with humility and openness, listen to feedback and make adjustments. The end result will be much better, and the team will have a different level of buy-in.
At the end of that process, you should have key messages that reflect your unique personality and are consistent with your Vision Frame. If you've been following along with this series, you might be interested in seeing Vanguard University's key messages that were developed by using the process described above. You can download the one-page PDF here.
You're almost ready to break out the hose and start drenching people with your vision-soaked communication. But next, let's look at how to tap into the thirst that exists in people's hearts.

Tags: Awareness, Taking Your Vision Public, Will Mancini