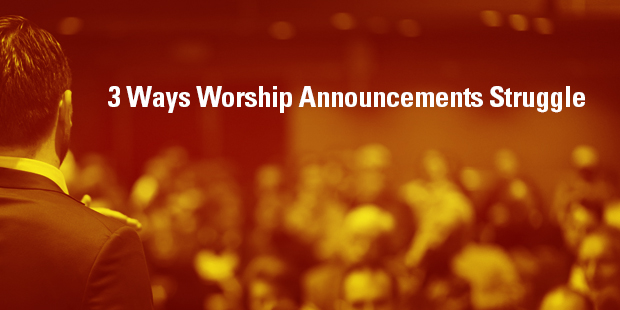 Three Ways Worship Announcements Struggle
by: Kem Meyer

Yes, verbal worship announcements are still a good idea.
Unless they're bad.
Sometimes in the "busy-ness of doing ministry business" we forget to ask what we're trying to accomplish in each "announcement" vehicle. Live host talking points and print bulletin content are used and consumed very differently. They may both address the same event and/or topic, but not in identical ways.
Look at it like this; they're sisters, not twins.
A host is there to act as a guide by curating and bringing the best stuff to the live audience in the room. They bring unique context and generate excitement with fun facts you can't get anywhere else, real stories that connect a soulless program with a human heartbeat, incentivize the crowd with perks and bring personality to sterilized corporate content. Verbal announcements are there to create a personal connection with live people in a live room. They are not there to waste people's time by reading the same thing people can read in the bulletin on their own. They are there to mix it up with variety; live or video.
Paper handouts travel with your live audience after they leave the room (hopefully). Your bulletin can serve as a simple reminder for the family refrigerator or an invite tool to pass to a friend. It's not designed to be a 'Flat Stanley' version of a pushy salesperson, or an encyclopedia of information, but a grab and go snapshot of the "need to know news only." Think about the bulletin as a tiny billboard people carry in their hand. It should only address the essentials about what they care about most and where to go to find the rest.
So, what do these announcement "sisters" have in common?
If they're wicked (like Cinderella's stepsisters) they think what's important to them is the only thing that matters and they dominate the conversation with no regard to how it affects people they've trapped in the conversation. But, if they're cool (like the Doublemint Twins) they only talk about one or two things that affect at least half of the people in the room.
The announcement struggle is real. Here are three places you can start to feel the win.
Try different channels. Video isn't the only tool in the toolbox. It can be great, but can get as boring and predictable as anything else. Have fun with it, but don't feel the pressure to over produce or make your announcements an oscar-worthy creative performance every week. It's a big waste of time, for everyone. And, comes across a little self-indulgent and out of touch.It can be just as effective with a live dude, standing on the stage for 60 seconds keeping it real – talking about simple, clear and human next steps. "When me and my wife were new to town, we were looking for one place to take our kids so we could have two hours alone. Tuesday nights in the café practically saved our marriage." Boom. You've got me right there. What a hook. A story in two seconds.
Try not to supersize. It's ok to talk about why something matters, but don't oversell the solution. "You don't want to miss this!" every, single week for every single event is the stuff parodies are made of. Tie events to subjects people care about, point them to a next step, but don't exaggerate the benefits.On that note, don't feel the need to produce a video every week if you don't have the team to do it. Take it for a test drive every other week as you build momentum and grow into it. Alternate between live and video. The variety might be just what you, and your audience, respond to best.
Try not to talk about everything at once. It's not just about YOUR bandwidth. It's about your audience's bandwidth, too. Come on. They can only handle so much at once. Champion unity around a key shared value or common problem, point to the event as an answer to the problem and help guide guests to the place where they can find the details and answers to their nitty gritty questions.
As much as the weekly announcements might be the bane of existence for communications and creative people, it's worth the effort. Don't over think it. Just remember the simple connection announcements are there for, keep it real and don't be afraid to mix it up from week to week.
---
Connect with an Auxano Navigator to learn more about how to communicate vision through your announcements.
---

Tags: Kem Meyer, verbal announcements, worship announcements