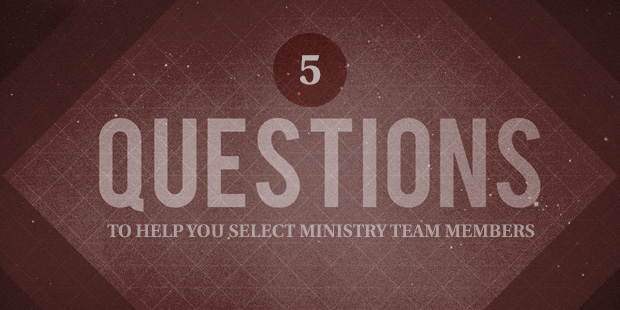 5 Questions to Help You Select Ministry Team Members
by: Thom Rainer

Watching a leadership team come together can either be highly frustrating or highly energizing. Of course, all leaders prefer the latter. Leaders in companies, churches, and other organizations can witness their organization move to the next level if the right team comes together.
How then do you select those key persons for a leadership team? What questions do you need to direct at them? What questions do you need to ask yourself? Allow me to suggest five key questions.
Does the person have a strong character? Any doubt at this point should disqualify a person. His or her character is foundational to everything else. No matter how qualified a person may seem, if he or she has questionable character, problems will develop in short order.
Does the person have the competency and skills to do the work? This question is so obvious that it may seem silly to engage this issue. I, though, have admittedly brought people to different leadership teams without doing due diligence on their competency and skills for the job. Typically I like them personally and like their personalities. But hiring friends and fun people to do a job for which they are not qualified is a recipe for disaster.
Does the chemistry of the person match the team and the leadership? Many of you have undoubtedly served on teams with highly competent people. But sometimes that person acts like a self-serving jerk. Regardless of how competent and gifted he or she is, that type of toxic behavior can destroy a team.
Will the person align with the vision of the leadership? If you are on a leadership team and you disagree with the major direction of the leadership, get off the team. If you are a leader seeking to bring a person on the team, and you sense that he or she does not align with your vision, run from that choice immediately. A team with diverse visions is not a team at all.
Can you trust the person? Allow me to clarify the specific meaning of "trust" in this context. Ultimately the trust issue here is whether or not the person is looking after their own interests and preferences or the interests of the team, the leader, and the organization. If you have to wonder what the motivation is of a prospective team member, you really need to move on to the next choice.
What do you think of these five questions? What would you add? What would you change?
Read more from Thom here.

Tags: Leadership Engine, Staff, Staff Development, Thom Rainer