Auxano's Boot Camps Coming in 2019!
by: VRcurator

Coming August 7-8, 2019 – more opportunities for Auxano's groundbreaking Boot Camps designed to help you gain break-thru clarity in these critically important areas of your church:
The Boot Camps will be held simultaneously in different locations across the country on August 7-8.
Registration of only $1,995 provides two full days of learning and collaboration for up to five members of your team.
Click on the links above to learn more!
> Read more about experiences at the Boot Camps here.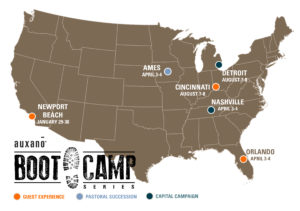 Tags: Boot Camps, Guest Experience, Leadership Pipeline, pastoral succession