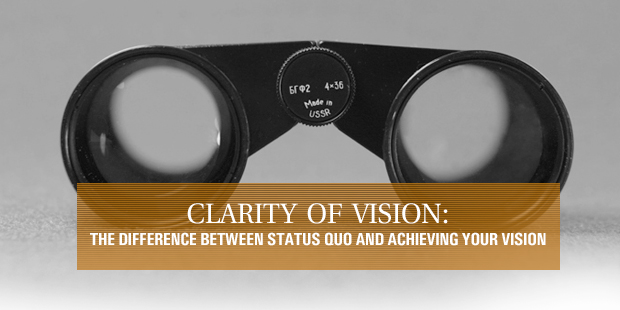 Clarity of Vision: The Difference Between Status Quo and Achieving Your Vision
by: VRcurator

Successful leaders have one trait in common: clarity about what they want out of their organization, what kind of team they want to work with and what they want to accomplish. It's that laser focus that helps them determine what actions to take and where to spend their energy on a daily basis.
The Magnetic Quality of Clarity
Simply put, clarity is what allows you to communicate your vision. Without it, it's hard to answer even the most basic of questions, like "What does your organization do?" and "Why are you doing what you do?" And, if you can't articulate your vision, why should you expect anyone to jump on your bandwagon?
What is clarity really about? A synthesis of definitions brings clarity to the concept of clarity: it means being free from anything that obscures, blocks, pollutes, or darkens. Being clear as a leader means being simple, understandable, and exact. The leader helps others see and understand reality better. Leaders constantly bring the most important things to light: current reality and future possibility, what God says about it and what we need to do about it.
There's a certain magical, magnetic quality about people that communicate their vision well. They inspire and attract people – even better, they attract help. If you can articulate your organization's vision with passion and conviction, you'll be amazed at how easy it is to enlist people into helping you build your organization. That translates into the ability to launch your initiatives faster and with greater success.
It's important to note that achieving clarity of purpose is a continual process; it's not something you do only in the launching phase. Organizations evolve and leaders must continually evaluate and evolve their vision as the organization changes and grows.
Clarifying the vision is about looking to the past as much as the future
Clarifying the vision requires careful consideration of strengths and limitations
Clarifying the vision is as much about identity as it is methodology
Clarifying the vision is always about what God is already doing
Not only does clarity prepare you to take action, it enhances motivation…one of those critical challenges every leader faces. When you clearly visualize the outcome you want in vivid detail and really feel how it feels, it's hard not to get excited about taking action.
Clarity isn't everything, but it changes everything.
---
Would you like to learn more about clarity for your organization? Connect with an Auxano Navigator and start a conversation with our team.

Tags: Recasting Vision, Vision Clarity, Vision Frame