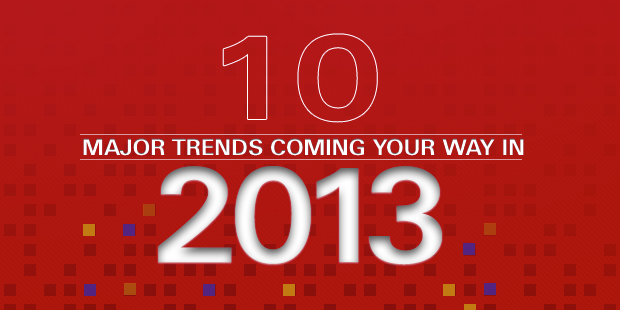 10 Major Trends Coming Your Way in 2013
by: Brad Lomenick

Here are a few trends that seem to be capturing major attention as we start 2013. I am not proposing that all of these are positive trends, but simply stating them as a picture of reality as move into 2013 and beyond.
1. Content on demand– everywhere, often and most of the time free.
2. Tech in everything– cars, kitchen, refrigerators, watches, wallets, and other devices.
3. Smart Phone as the center of your world– it is where you consume content, get info, make calls, update my status, and remote control my tv and appliances, along with basically running your life.
4. Integrated social media– social media is no longer a phenomenon. It's here to stay. And now integrated into everything we do.
5. We are all leaders– because of social media, technology, and the digital space, anyone can create a platform and gain influence quickly. Everyone has access. Small competes with large, and there is an equal playing field for most involved.
6. Authenticity matters– more than ever, we have to be real and genuine and honest.
7. Comfortable Multi-tasking is in– Cars are now being created that drive themselves. For real. We are more than ever creatures of comfort. Comfort so I can do multiple things at once.
8. Touchscreens– experience is now about everything being a touchscreen and swipe technology.
9. Collaboration– working together is more and more becoming the norm. Shared office spaces between companies, shared staff, partnerships, etc.
10. Mergers and streamlining within industries– similar to #9, but specifically as it relates to a formal merger between companies, organizations and churches. This continues to happen with more regularity, and is now happening consistently with churches and non-profit organizations.
Read more from Brad here.

Tags: Brad Lomenick, Kingdom Concept, Recapturing Vision, Vision