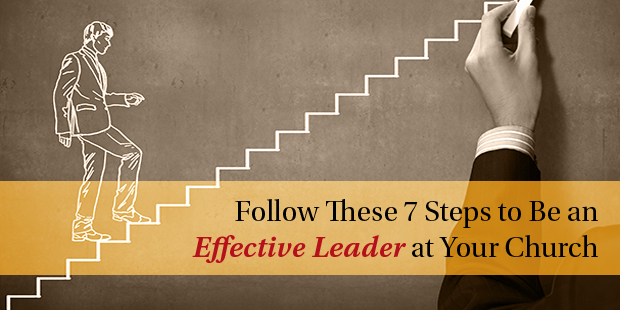 Follow These 7 Steps to Be An Effective Leader at Your Church
by: Carey Nieuwhof

What makes a successful leader successful?
And—here's the next question— could you adopt any of their characteristics to help you become a more effective leader?
Sometimes it's easy to think that some people were just 'born' successful or that they 'have it' and you don't. For sure, some people are gifted communicators, visionaries or organizational wizards who seem to naturally know how to lead churches and organizations.
But the recipe for a leader's effectiveness does not all lie in the gene pool. The good news is there are common traits and characteristics that make highly successful church leaders successful. And the really good news is that these characteristics can be learned and then adopted by leaders like you and me.
Last year I launched a leadership podcast (you can subscribe and listen for free here) and so far have had the opportunity to interview over 20 top church leaders. Not only has this been a fun journey, but early on I started to notice common characteristics among all these leaders as we did the interviews.
The common characteristics are so simple they're surprising, and you might be tempted to dismiss them. But they're incredibly endearing. And I think they are in part what makes each of them effective in their own realm.
And there is absolutely nothing stopping you from adopting each of the characteristics in your own leadership starting today.
So what do leaders like Andy Stanley, Perry Noble, Jon Acuff, Jeff Henderson, Pete Wilson, Derwin Gray, Tony Morgan, Kara Powell, Casey Graham, Ron Edmondson and others have in common?
Of course they're gifted speaker, writers, thinkers, strategists and more. But they also do the following 7 things very, very well.
And before we jump to the list, you can get the full list of leaders here and can listen to any or all of the interviews by subscribing to my podcast (for free) on iTunes, Stitcher or TuneIn Radio.
1. They show up on time
I know a lot of leaders who manage far less than any of my guests who are always running late. Usually they talk about how busy they are and excuse it. But not one of my guests has been late so far for their interview. They are precise. To the minute.
This challenges me because as much as I value being on time, I sometimes show up a few minutes past due. This might only happen a few times each month, but it's still a failure on my part as a leader.
When you show up on time, you not only steward your time well, you steward other people's time better too.
2. They do their homework
I make it habit to send out questions and an interview tip sheet before each interview. Honestly, I never expected most of the leaders to read it. I know how busy they are and felt fortunate to get an hour of their time. Every leader I interviewed had read the questions in advance. What blew me away is some of them took it further.
Andy Stanley made notes. So had many other leaders.
So just how busy are you again as a leader?
3. They call you by name
Many of the people in these early days of the podcasts are my friends and colleagues, but some truthfully I just knew well enough to ask to be on the show. But what blew me away is how all of them called me by name, not just in the pre-recording set up, but during the interview.
It's very endearing when someone knows and remembers your name.
As a leader it's hard to remember the names of everyone you meet. But it's so important. I wrote this post a few years ago about my struggle to remember names and outline some techniques I use to help me when I'm stuck.
If you want to be a better leader, remember names. And use them. It's that simple.
4. They're okay not being good at everything
You would think that some leaders are just naturally great at everything.
Not true.
I record the interviews via Skype, and I was surprised by how many leaders had to get other people to help them get online (not everyone, but more than a few). Some leaders had to create accounts for the purpose of the podcast. They'd just never used Skype before. Others used other people's user names and got that person to get them online because they weren't sure how to do it. What's interesting is they all seemed at peace with it.
No apologies. No trying to pretend like they knew what they were doing. Just an honesty and a gratitude for the friend or staff member who got them online, and then a focus on our conversation and the upcoming interview.
And maybe that's a secret of their success.
When you try to be great at everything, you can end being excellent at nothing. The world is not going to stop spinning because you need a friend to help you do something you haven't taken the time to master yourself.
They were just super cool not being great at everything. And I think that's super-cool.
5.  They follow through. Fast
Sometimes there's follow up to an episode. We'd cover something in the interview I wasn't expecting to cover and after it was over, I'd ask whether they could provide the link or resource they talked about.
A great example is Perry Noble's interview on burnout (such an amazing and compelling story by the way). We referenced a number of articles on his blog and resources he and his team had pulled together on burnout, depression and suicide. Perry and his team got me the notes within an hour of promising they would. And it was no small project. Have a look at the show notes.  The coolest part is that those notes have literally helped thousands of leaders at this point.
Follow through—and fast follow through—is a characteristic of almost every effective leader.
The lesson is simple. Don't make promises you can't keep. And when you promise, deliver.
6.  They take their work — not themselves — seriously
Every guest I've interviewed so far takes their work seriously, but not themselves.
It's so refreshing to find leaders who are absolutely passionate about their mission, but who don't take themselves that seriously. This shouldn't be a surprise, but it is. Jim Collins identified humility as the defining difference between a Level 4 and a Level 5 difference. The leaders who go the furthest, even in business, are the most humble.
Want to be a better leader? Take your work more seriously than you take yourself.
7. They're incredibly down to earth
I often get asked, so what's __________________ really like?
I love that question, because of the top church leaders I've met and know, the answer is they're incredibly genuine people who walk the talk and who are good to be around. I was a little intimidated in some of the interviews, but the warm demeanor, kind words and down to earth approach of every guest was disarming and encouraging.
I've met some leaders of small things who take themselves too seriously and are anything but down to earth.
I think that limits your leadership.
The leaders I've interviewed all know whether they've come from, realize that leadership is a stewardship and make others feel at ease. What if you and I made others feel the same way.
What Do You See?
These are 7 characteristics I've seen in the high capacity leaders I've been around on my podcast in and in my leadership.
What do you see in the leaders you admire?

Tags: Carey Nieuwhof, Leadership Characteristics, Leadership Engine