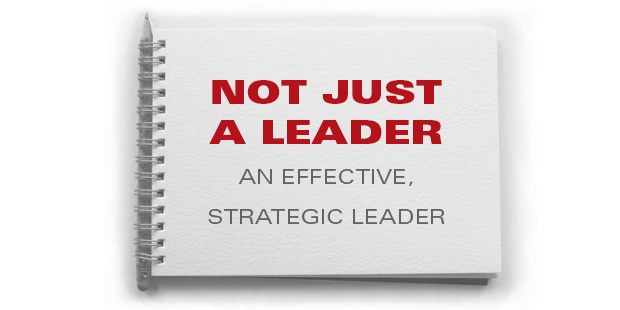 Not Just a Leader: An Effective, Strategic Leader
by: Center for Creative Leadership

A strategic challenge is a leadership challenge — and one that top-level managers and executives can't ignore.
Studies suggest that the ability to lead strategically is essential for success in senior roles, and in a way that is different from other management levels – CCL's Stephanie Trovas.
Consider two findings from Management Research Group (MRG). In one study, 94 percent of senior executives indicated strategic leadership was the most critical behavior for their organization's success. A second study found that effective senior executives scored an average of 15 percentage points higher in "strategic thinking" than effective managers.
So what does it take to be an effective strategic leader? How do vice presidents and directors and CEOs learn strategic leadership skills? In CCL's Leading Strategically program, we break it down into 11 skills in five key areas that participants learn, practice and apply to their personal strategic leadership challenge.
Strategic Learning. Senior leaders must have a firm grasp of the business. This is the "nuts and bolts" of strategy that are commonly taught and talked about. Specifically, leaders must:
Have a business perspective: Understand the perspectives of different functional areas in the organization and the external conditions that affect the organization.
Be strategic planners: Develop long-term objectives and strategies; translate vision into realistic business strategies.
Master organizational decision-making: Make timely decisions; readily understand complex issues; develop solutions that effectively address problems.
Leverage Polarities. Senior leaders constantly wrestle with the strategic and practical implications of priorities that appear to be in conflict. They debate the merits of global vs. regional, rewarding the team vs. rewarding individuals, centralized vs. decentralized. To be successful in today's environment, leaders must leverage the value of each, rather than viewing them as "either/or." This requires the ability to:
Manage conflicting perspectives: Recognize that every decision has conflicting interests and constituencies; balance short-term pay-offs with long-term improvement.
Act systemically: Understand the political nature of the organization and work within it; establish relationships and alliances throughout the organization.
Spanning Boundaries. Leaders of functions and divisions have the essential role of creating Direction, Alignment and Commitment (DAC) across boundaries. They must learn to work across vertical, horizontal, stakeholder, demographic and geographic boundaries — and support other groups and managers to do the same. Boundary spanning requires leaders who are able to:
Influence across the organization: Inspire; promote a vision; persuade and motivate others; influence superiors; delegate effectively.
Build collaborative relationships: Build productive working relationships with coworkers and external parties.
Leading Change. Senior leaders are responsible for managing change, but also for understanding and leading their organization through the cognitive and emotional dimensions of change. They need to:
Promote organizational transition: Support strategies that facilitate organizational change initiatives and position the business for the future.
Adapt to new conditions: Show agility within changing business conditions and openness to new ideas and new methods.
Shaping Culture. Organizational culture affects strategy. Senior leaders must work within current culture and, at the same time, influence culture change for greater performance potential. Leaders will need to:
Initiate organizational innovation: Seize new opportunities and consistently generate new ideas; introduce and create needed change even in the face of opposition.
Demonstrate vision: Understand, communicate and stay focused on the organization's vision.
"There's a lot out there about strategy and how to be a strategic leader," Trovas notes. "But frankly, senior leaders and executives don't get a lot of opportunities to learn new strategic leadership skills, practice them, and work with a coach and peers to apply them.
Read more from the Center for Creative Leadership here.

Tags: Center for Creative Leadership, Leadership Characteristics, Leadership Engine