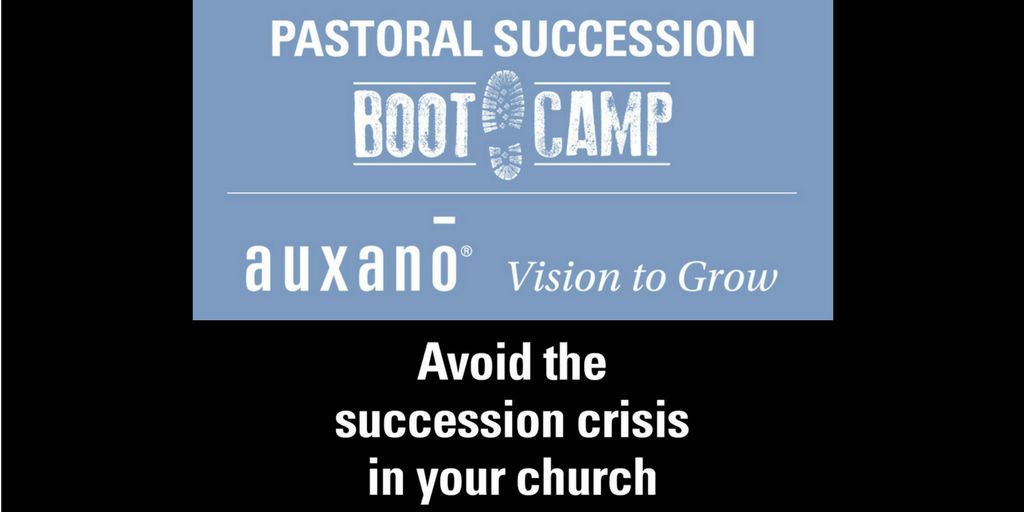 Are You Looking for Tools to Help Design Your Succession Planning Process?
by: VRcurator

"Succession planning" is actually a catchphrase for five distinct conversations. 
You are somewhere in one of those conversations right now – do you want to know the difference?
You can lean the differences in two days of training and preparation at Auxano's all-new Pastoral Succession Boot Camp in Dallas, TX.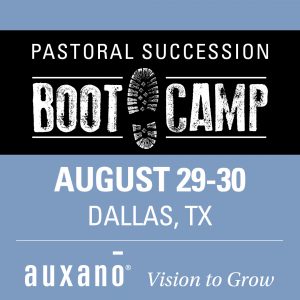 Introducing Auxano's Pastoral Succession Boot Camp:
One hundred percent of all pastors stop pastoring at some point.
You can avoid the succession crisis in your church, and learn to use tools to help design your own succession.
The Pastoral Succession Boot Camp will help you learn how to transition with wisdom and power. The Boot Camp will include:
Two full days training with your team (up to 5)
Pastoral Succession Workbook for each team member
Customized Pastoral Succession Implementation Plan for your church
Training Tools for your team
Tools to aid in the development of a communication strategy
A 60-minute, one-on-one virtual coaching session for your church
Virtual follow-up sessions with Boot Camp participants one and three months after the Boot Camp
Lunches and breaks throughout the Boot Camp
The Pastoral Succession Boot Camp will be held at Fellowship Bible Church in Dallas, TX, from 9 a.m. to 4 p.m. on Tuesday and Wednesday, August 29-30. Fellowship Bible is easily accessible to hotels and restaurants.
Register for the Pastoral Succession Boot Camp
The $1,995 investment includes registration for up to five members of your church team. Transportation to the host church, local lodging, breakfast, and evening meals are NOT included.
Your Boot Camp Navigator:

Will Heath – Will Heath is a unique voice on the topic of transition management and succession planning.  His ministry and professional experiences have afforded him rare, front-row access to succession plans at various stages of development and implementation in churches, para-church ministries, nonprofits, and businesses. In 2010, Will commissioned the Barna Group to conduct a national survey of 600 pastors on the issue of retirement based transitions.  In 2012, he began speaking at conferences and consulting with ministry leaders in the area of succession planning. Will now leads Auxano's initiative to help ministries understand how to effectively navigate seasons of leadership transition.
Join us at the Pastoral Succession Boot Camp for a collaborative learning environment that will help you design a succession plan centered on your vision and focused on the overall health and effectiveness of a leadership transition.
Register for the Auxano Pastoral Succession Boot Camp here.

Tags: Auxano Boot Camp, Auxano Boot Camp Series, Will Heath, pastoral succession