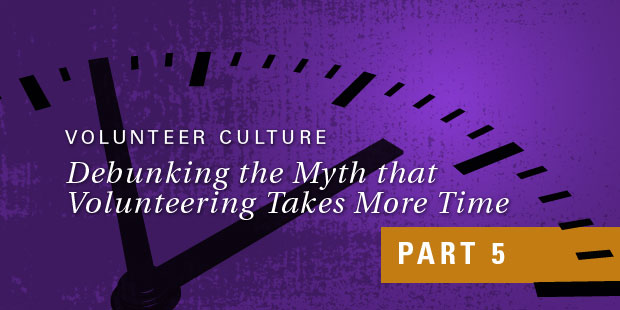 Volunteer Culture: Debunking the Myth that Volunteering Takes More Time, Part 5
by: Mark Waltz

In the last post and next couple posts about creating and cultivating a volunteer culture, I'll pull from my second book, Lasting Impressions: From Visiting to Belonging, to review some common myths that prevent people from stepping up to serve in the local church (or any organization).
Myth #2: "Volunteering Requires Too Much Time."
This myth may or may not be true in your church. If the only way to volunteer at your church is by serving every week for hours at a time, the above statement may not be a myth; it may be an unfortunate reality.
Debunk MYTH #2
Create first serve opportunities. We picked up this concept from Willow Creek Community Church. At Willow first serves are "one-time serving opportunities offered at a variety of times and tapping into a wide range of skills and areas of interest." Their mantra is "Come once and check it out. No strings attached." People are invited to help prepare the auditorium for weekend services, care for cleanup during services, assist with maintenance projects and more—one time. It's a first serve.
Provide a variety of schedules for serving. There are roles in our children's ministry that require a weekly serve for sixty—ninety minutes each week, so that our children experience consistency with the adults and students who lead them. There are other volunteer roles in children's ministry and almost every other department that are as infrequent as once a month. Volunteers can serve in some areas on a seasonal basis, such as our Green Thumb teams who spruce up and maintain the landscape of our campus during the spring and summer months (We're in the snow belt of Northern Indiana. There are other unique and courageous teams who clear snow and de-ice pavement during the other months.)
People make assumptions. People know people who serve 2, 5, 10, 20 hours a week. They assume that's what's required to volunteer – so they don't. People will live their assumptions as reality unless you say otherwise. Find creative ways to allow people to serve without requiring them to quit their jobs to do so.
Adapted from Lasting Impressions, Group Publishing
Read more from Mark
here
.

Tags: Mark Waltz, Serve, Volunteer Culture