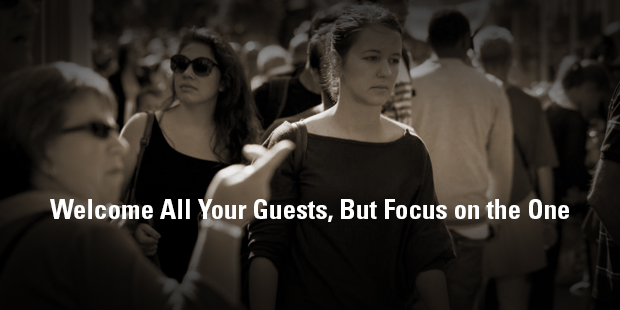 Welcome All Your Guests, But Focus on the One
by: Danny Franks
As guest services practitioners, it's time for us to admit something.
The ministry of serving guests is relatively easy, in the grand scheme of things: design a system. Invite volunteers to serve in the system. Execute the system week after week. Lather. Rinse. Repeat.
I say that it's easy because, after all, we are ministering to the masses. Blocks of people move through our pre-engineered process. They go from point A to point B, guided by our unseen hands as we help take them from a place of connection to a place of commitment.
Creating an inviting environment for guests is pretty simple, because guests plural are nameless, faceless entities.
But what if this weekend – rather than saying we're here to serve our guests – we looked for a particular guest to serve?
What if we moved past the many to see the one?
What if we set aside our systems and struck up a friendship?
What if we stopped making assumptions about what our guests want and stop to discover what one person needs?
What if we breathed a silent prayer as we walk down a sidewalk or make our way through the lobby, asking the Holy Spirit to reveal to us the one person he's putting in our path?
What if we asked the question, "Who am specifically serving today? Right now? In this moment?"
So…who are you here for?
---

Tags: Danny Franks, Guest Experience, Serving Guests, guests