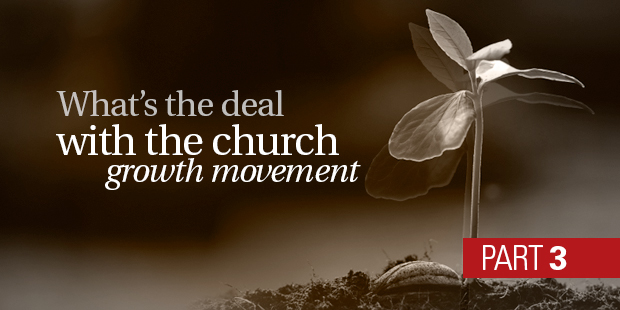 What's the Deal with the Church Growth Movement, Part 3
by: Ed Stetzer

In my last post I highlighted three negative unintentional outcomes of the Church Growth Movement. I champion missiologists like Donald McGavran, Win Arn, and others who wanted a missiological focus. I don't blame them for all of the negative outcomes of Church Growth thinking. Our American consumer-driven culture, as well as an unhealthy obsession with success, has resulted in a formula-based approach to God's mission. The movement became less missiological and more Americanized, particularly under the leadership of Peter Wagner.
The obsession with formulas and numerical results pre-dates McGavran and Arn, but it might help to see the history. A Mississippi clothing salesman, Arthur Flake, designed an approach to reaching people in the early 1920's. His five principles became known as "Flake's Formula." The short version of the formula was enlarge, enlist, train, provide space, and go after people. Many denominations experienced incredible results through Sunday School, much of which is credited to Flake's influence. He taught, among other things, that is you get __ leaders, you will get __ new attendees– and he was right. New leaders tend to gather new folks– that's why we start new small groups.
So, if I think Flake was right, why bring him up? Well, the questions about Flake's Formula are not questions about Arthur Flake. Neither are my questions about his lasting impact on adult Sunday School work in countless churches since the 1920's. The danger is when we misappropriate ideas and the successful practices of others to become driven primarily by formulas. Often our desire to be successful can overshadow the mission of God in our community. Our obsession… our scorecard must always must be shaped by a desire to see lives transformed by the power of Christ, not just to run certain mathematical formulas to grow.
So, it's hardly new in the Church Growth Movement (launched in the 50s, after Flake's ideas). However, then soon the Church Growth Movement expanded and the formulas flourished. As I see it, the focus of many in the Church Growth Movement was more on formulas than on faithfulness.
Yet, formulas themselves are not the problem, nor are methods, but methodological mania is. When formulas ruled the day, soon everyone had a new formula to sell. Formulas became the focus and experts flew the country focusing on steps, formulas, and guaranteed results.
Two things happened. First, the formulas over-promised and under-delivered. In a sense, the movement lost much of its credibility because many tried the formulas and did not have the fruit– I would say because they did not have the evangelistic passion seen in the movement's founders. In other words, Church Growth formulas without evangelistic passion leads to frustration and failure– as it should.
Second, the formulas became too much of a focus. You see, ultimately, I think that many in the Church Growth Movement lost their way because they confused tools with goals. The formulas became the goals, which is why the Church Growth Movement was embraced by people and movements that no longer believed in, for example, conversions (so central in McGarvan's thinking). You did not need to believe in conversions, you just needed to implement these formulas, and your religious organization would grow.
So, where do we go today? Why do I believe that you should still value the movement?
Well, for one example, formulas still matter. You should shoot for 80% involvement of your church in small groups, for example, and 60% of your church serving, etc. That's part of the reason why I am thankful for the Church Growth Movement (and you should be as well). Actually, I will explain next time why you are greatly influenced by it without knowing it– and you should be glad.
Before the Church Growth Movement, many people did not care if they church was growing, if it was reaching converts, and if people were involved and serving. It may sound strong to say that many did not care, but it was often accurate. Before the Church Growth Movement, things like the "remnant mentality" kept many thinking that they should just pray and preach and leave strategic thinking up to God. Thankfully, most don't think that way today (though, regrettably, I still find it in some places, particularly among the most theologically minded, who are turned off by pragmatism.)
However, formulas are our servants and not our masters. We do research (and create formulas) from a theological grid with a missiological focus. That's something that many of the early thinkers of the movement did, and some have tried to keep that focus throughout. For example, Gary McIntosh has both worked in the field, but also brought critical thinking about how to see the Church Growth Movement in his book Evaluating the Church Growth Movement.
So, feel free to share your comments, criticism, and disagreements in the comments. I will post one more installment in this series that will focus on the things we have learned from the movement and why it still matters.
Read previous parts of this series here: Part 1; Part 2.
Read more from Ed here.

Tags: Church Growth, Ed Stetzer, Vision Frame