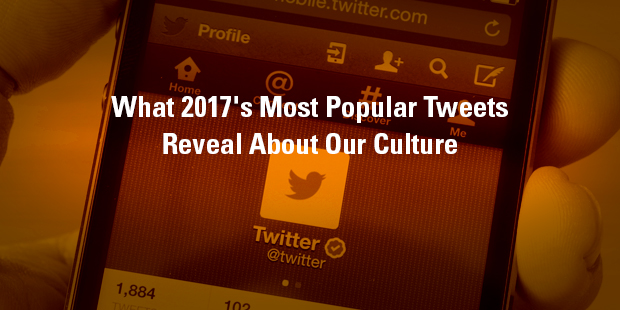 What 2017's Most Popular Tweets Reveal About Our Culture
by: James Emery White

There are many ways to gain a quick snapshot into culture. One of the more revealing ways is to look at what has trended – or is trending – on Twitter. So for a crash course in all things "now," here is a sampling of Twitter's most popular tweets and accounts of 2017:
Most retweeted tweets:
1. The Wendy's chicken nugget challenge
2. Barack Obama's Charlottesville response
3. Pennsylvania State University raises money for Houston
4. Ariana Grande responds to the Manchester concert shooting
5. President Obama's last "thankful" tweet as POTUS
Most tweeted about celebrities:
1. K-pop group @BTS_twt
2. South Korean record label @pledis_17
3. Singer @Camila_Cabello
Most tweeted about elected world leaders:
1. President Donald Trump @RealDonaldTrump
2. Narendra Modi, the prime minister of India @narendramodi
3. Venezuelan President Nicolas Maduro @NicolasMaduro
Most tweeted about TV shows (US-only):
1. Game of Thrones
2. Stranger Things
3. Big Brother
4. 13 Reasons Why
5. Saturday Night Live
6. The Walking Dead
7. Grey's Anatomy
8. The Voice
9. Supernatural
10. Pretty Little Liars
Most tweeted about movies (US-only):
1. Wonder Woman
2. La La Land
3. Dunkirk
4. Spider-Man: Homecoming
5. Justice League
6. It
7. Beauty and the Beast
8. Thor: Ragnarok
9. Black Panther
10. Fifty Shades Darker
Most tweeted activism hashtags (US-only):
1. #Resist
2. #MAGA
3. #ImpeachTrump
4. #TrumpTrain
5. #WomensMarch
6. #NotMyPresident
7. #BlackLivesMatter
8. #NoDAPL
9. #TakeAKnee
10. #BoycottNFL
Now, ready for your homework? If any of these made you feel clueless, put Google to work and catch up.
It's the world in which you live.
> Read more from James Emery White.

Tags: 2017 Tweets, Culture, James Emery White, Tweets