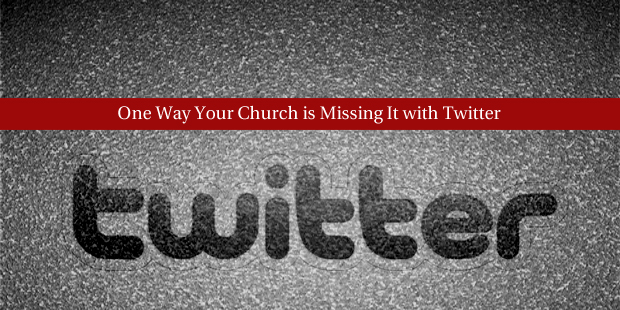 One Way Your Church is Missing It with Twitter
by: Justin Lathrop

A few weeks ago I had the opportunity to sit down with Social Media Church for a conversation about—you guessed it—social media. I had a great time talking about how I like to use social media as a connector and strategist. I also shared about a recent social media faux pas I made.
After the show, I thought I'd share the one way a lot of churches are missing it with Twitter. And it's this…
Twitter is just as much of a listening tool as it is a sharing tool. It's a two way street. If your church isn't using twitter to engage with your members or people in you're community, you're missing out on the fundamental benefit of the social media network.
Here are a few practical steps you can take to use Twitter engage your community instead of simply sharing last week's sermon or next week's series:
Create a Twitter list of everyone you know in your church, responding to them when it's appropriate.
Engage with influential Twitter handles in your community. (e.g. – Chamber of Commerce, Events Around Town, Government Entities)
Set up proximity searches for terms like "prayer" or "church" within a 20-mile radius of your church. Monitor those searches and reach out if an opportunity presents itself.
You can listen to my entire conversation with Social Media Church here.
How has your church used Twitter or another social media channel to engage with your community?
Read more from Justin here.

Tags: Awareness, Justin Lathrop, Social Media