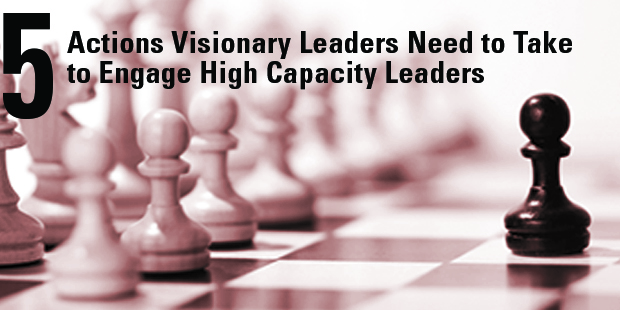 5 Actions Visionary Leaders Need to Take to Engage High Capacity Leaders
by: Carey Nieuwhof

I was on a call a few months ago with a friend I track with regularly.
Darryn leads a growing church that has some pretty high capacity leaders around the table.
On the call he said "I need to have a vision big enough to make high capacity leaders afraid."
That stopped me dead in my tracks.
I loved it.
Think about it. Is there a higher or more urgent calling than accomplishing the mission of the church?
And yet so many churches limp along satisfied with incremental progress and minimal commitment. Starbucks sometimes seems to have a more urgent mission than many churches do. That just shouldn't be true.
Here's what I think is true:
High capacity visions attract high capacity people.
High commitment environments attract highly committed people.
The lower your bar is, the lower your chance is to accomplish anything significant.
Big leaders are not stirred by small dreams.
Here are five things you can do that can help engage high capacity leaders:
1. Become passionate about an inexhaustible vision. One of the things I love about leading a church is that the mission is never 'done'. Sure, it's important to celebrate milestones along the way. But as long as there are unchurched people (we have about 200,000 within a 30 minute radius of our church) and as long as people need to grow in their faith (that's never 'done' either), then we have work to do. High capacity leaders love visions that are much bigger than themselves. Reaching 200,000 people will keep almost any leader energized.
2. Ask big. If you are recruiting small group leaders, asking a leader to serve every week pulls in a more committed leader than asking someone to serve 1 in 5 weekends. Asking someone to join an inner circle and engage intellectually, spiritually and even financially calls out a different kind of leader than the call to simply handout programs and smile on a Sunday. High capacity people are drawn to high levels of challenge.
3. Be innovative. As the church moves into the future, I think experimentation and innovation are going to be hallmarks for churches that are effective in reaching the next generation. Being willing to do things in different ways will attract the best minds, hearts and intellects to the mission. If you launch ventures like, say, online campuses or multisite, you will engage people who would never come to the table under more traditional forms of ministry.
4. Continually point toward why you're doing what you're doing.High capacity leaders want to accomplish something bigger than themselves. There is no mission bigger than the mission of the church. Remind them regularly of giving their lives to a higher cause.
5. Value input. Leaders love to be heard. You do. I do. High capacity leaders don't always need to be right, and they don't even need to always get their way. But knowing that their input is valued is huge. Listen as you lead.
If you're having trouble engaging high capacity leaders, your problem might not be that you're asking too much. It might be that you're asking too little.
What are you learning about attracting high capacity leaders?
Do you have a vision big enough to scare people?
---
Want to know more about the kind of vision described above? Start a conversation with our team. We're glad to offer our input. Your vision is at stake, so let's talk.

Tags: Carey Nieuwhof, High Capacity Leaders, Vision