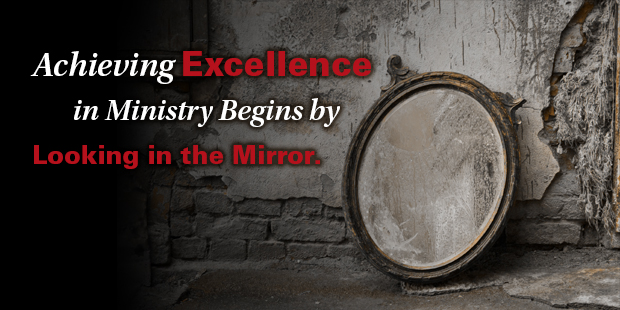 Achieving Excellence in Ministry Begins by Looking in the Mirror
by: VRcurator

So you want to claim the title of "excellence" in your personal and professional life?
Or are you a leader of an organization or manager of a department and you want to be seen as best of class, at the top of your game? In short, you desire a score of a ten out of ten in all that you do. Neither the silver nor bronze will do.
If you fall into any of the categories above, then this is your wake-up call. What many call excellence is actually average incognito. So the first step to obtaining your title is to remove the veils of mediocrity and come to know what this elusive term called excellence really is. Once you view excellence in its purest form, then you can set your course—or your organization's course—with a compass that clearly shows if you are on the right path.
In the 80's, many began their search for excellence. Over three decades later, the search still continues for many of us and, for others, the search has just begun.
We were intrigued by the concept of excellence in both the professional and organizational domains and began on a journey to understand excellence, but soon found that a significant barrier exists.
A commitment to excellence is a commitment to evaluate your current environment, circumstances, challenges, issues, opportunities and contracts and to rise above the base foundation and lowest common denominator, to perform and behave in a manner that reflects your best.
It's time to take an honest assessment of your personal and professional life. Have you settled, compromised, given up, or given in?
Authors John Britt and Harry Paul have worked with Ken Blanchard in creating classic leadership books like Who Killed Change, Revved! and Fish. Their most recent book, Who Kidnapped Excellence? is excerpted in a PDF entitled Finding Excellence.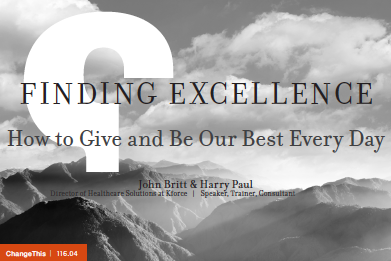 Tags: Finding Excellence, Harry Paul, John Britt, Leadership Characteristics, Leadership Development