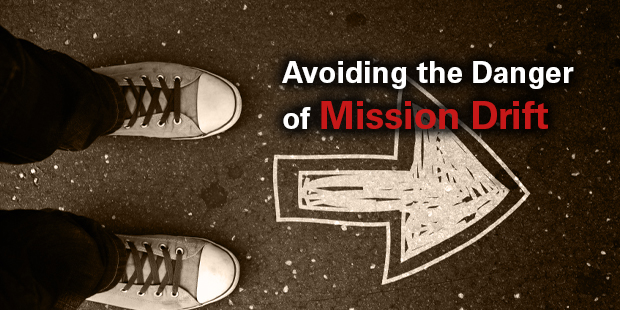 Avoiding the Danger of Mission Drift
by: Eric Geiger

There is a tendency in any organization, in any ministry, toward wandering. For a season, people might be focused and motivated to move in a single direction, but then something happens. Things catch their attention. Other priorities come up. The urgency that was once so acutely felt fades to the background. Slowly the organization drifts toward giving time, energy, and resources to ancillary matters. The mission is no longer central; the focus is no longer intense.
That's why one of the duties of leadership is saying the same thing over and over again. A wise leader is a repetitive one.
Church leaders must not only be aware of their core convictions and mission but must also articulate them plainly before people over and over again. Church leaders must constantly be reminding.
Wise leaders look for the wandering, and quickly move to address it.
Maybe you're sensing that right now. Perhaps something seems off. In many cases, that "something" is a deep-rooted understanding of who you are as a church, a deeply shared commitment to the theology and doctrine that undergirds all your church does. What's missing is that sense of identity that galvanizes, motivates, and focuses your people on your God-given mission. In many cases, the "core values" or the "mission" are merely words on the back of a bulletin that lose meaning because the people aren't reminded of the heart behind the phrases. So if something just doesn't seem right, it's often because the majority of members have not fully ingested the stated mission and values of the church.
So how do leaders communicate the church's mission and values?
1) Live the mission and values.
John Kotter stated, "Behavior from important people in the organization that is contrary to the mission overwhelms all other forms of communication." In other words, if leaders do NOT live the mission, the slogans and communication pieces are an absolute waste of time and money. Living is deeper than "modeling." One can "model" mission because it is in his/her job profile without authentically living it.
2) Teach the mission and values.
Wise pastors look for appropriate opportunities in their messages to remind the people "this is who we are" and "this is our mission." But teaching goes beyond the sermon. Wise leaders look for other environments, from leadership meetings to small group gatherings, to remind people of the church's identity.
Because wandering and drift happens, leaders are necessary. And it is necessary for leaders to both live and remind the people of the mission and values that are beneath the surface of everything the church does.
Many church leaders are finding that small groups are an excellent environment for instilling core values into the people of the church. Think about it as you enter this Fall season of ministry. You have a chance to refocus your people, to bring them back to the core of who you are as an individual church. Your small groups can be an environment where those values and mission are imbedded deep into the hearts and minds of your people.
---
In the division I lead at LifeWay, we have a team of custom content creators who are creating studies for churches, based on the church's unique mission and values. If that would serve you well, then I encourage you to check out discipleshipincontext.com. Be it with a study aligned to your weekly messages, or through studies that stand on their own, LifeWay can partner with you to create custom studies that perfectly reflect your core values and help you create the unique culture you are praying for and striving for.
>> Interested in customized studies for your groups? Check out discipleshipincontext.com.

Tags: Eric Geiger, Mission, Mission Drift, Recasting Vision, Values