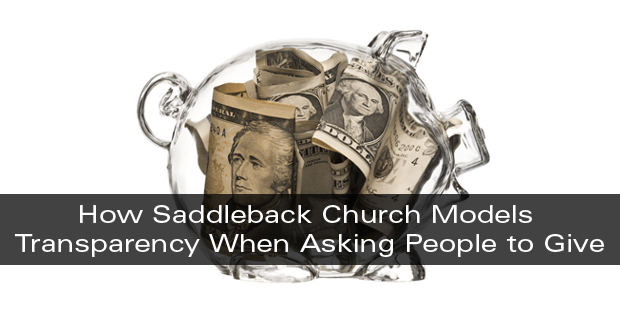 How Saddleback Church Models Transparency When Asking People to Give
by: Rick Warren
We're right in the middle of our Daring Faith campaign at Saddleback and lives are already being changed in amazing ways! One element of this campaign is that we're asking people to give to some really big goals. We've printed a brochure helping people to clearly understand every aspect of the campaign, and one section of that brochure is designed to help people have confidence when they give.
A Church Worthy of Your Support
Any time you are asked to consider giving to an organization you should ask three questions:
1. Do they have a track record of success and effectiveness?
2. Do I trust the leadership and have they proven to be competent?
3. Will they make the best use of my gift?
With a 35-year record of effective ministry, global impact, world-wide respect, and countless changed lives, you can be certain that your gifts to Saddleback Church will produce the greatest impact for Jesus. After planting 15 campuses around the world, training over 400,000 other churches in the purpose driven strategy and sending PEACE teams to every nation in the world, it would be difficult to find a more influential church. At Saddleback, your gifts spread the Good News Around the world, feed the hungry, care for the sick, make disciples, train the next generation, plant churches, promote reconciliation, and so much more through over 500 different ministries – all through ONE organization! It's like having a one-stop-shop for ALL the causes you care about!
Here are seven reasons to support Saddleback Church:
1. We are built on biblical purposes
From the beginning, Saddleback has never wavered from its commitment to Jesus' Great Commandment and Great Commission:
– We celebrate God's presence through worship.
– We connect God's family through fellowship.
– We demonstrate God's love through ministry.
– We educate God's people through discipleship.
– We communicate God's Word through evangelism.
2. We have wise and loving leadership you respect
We are fortunate to have Pastor Rick feed and lead our congregation. Time Magazine named him one of the "100 Most Influential People in the World," Newsweek named him one of "15 People Who Make America Great," and USA Today, CNN, FOX and other media outlets often refer to him as "America's Pastor." Pastor Rick and Kay have given their lives in service for us.
3. We have financial integrity
Both internal and independent external audits have given Saddleback a spotless 35-year record of wisely stewarding funds.
4. We have a heart for helping people who hurt
Saddleback invented the signature ministries of Celebrate Recovery, the PEACE Plan, The Daniel Plan, and many other ministries that are now replicated by other churches worldwide. Whether it is caring for those with HIV&AIDS, supporting individuals and families affected by mental illness, adopting orphans and fostering kids, offering hundreds of thousands of hours of free counseling, or feeding 100,000 needy families, this church practices faith through loving action.
5. We have next generation ministries
Saddleback's commitment to supporting families in raising their children is seen in our deep investment in both our children's and student ministries, which are second to none. The result is that today we have pastors on our ministerial staff who grew up through our children's and student ministries.
6. We have daring faith and bold dreams
If you want to be part of the future, this is a church with a global vision and willingness to take giant risks in faith.
7. Your life has been changed by Saddleback!
Every weekend, over 25,000 changed lives gather for worship at one of our 15 campuses. Your gifts to Daring Faith will enable your church family to reach others with the same transforming message of Jesus that has made such a difference in your own life. Pass it on!
A little bit of transparency can go a long way when helping believers understand more about the church to which they give their tithes and offerings.

Tags: Generosity, Rick Warren, Saddleback Church, giving transparency, transparency