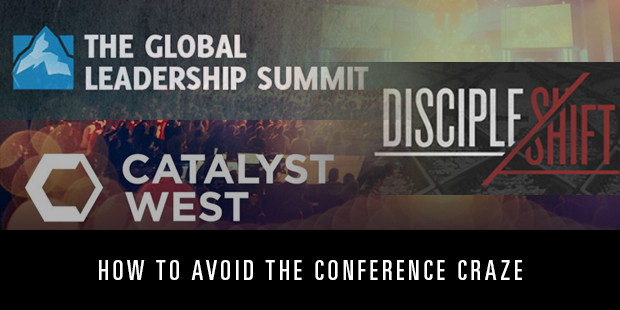 How to Avoid The Conference Craze
by: VRcurator

Catalyst East 2013 is over – long live Catalyst!
Over 13,000 leaders have returned to their churches, organizations, and homes filled to the brim with pages of notes, hours of conversations, and ideas aplenty.

Now What?
Having participated in several live Catalyst events over the years, and listened to several more of them via CDs, downloads, and DVDs, I always come away inspired…
…and a little spiritually shell-shocked.
Can so much good, be bad?
In a word, yes.
Auxano Founder Will Mancini refers to this phenomenon as the "conference craze."
In the conference craze, leaders rely solely on training events (like Catalyst, or Exponential, or Global Leadership Summit, or…) to instill direction and vision for their church. Many pastors in the past two decades have built a model of ministry by borrowing one. This is not surprising when you consider the conference offerings and their glut of photocopied vision prepackaged for import.
Lurking in the wake of the plethora of conferences is the growing virus of unoriginal sin. Most leaders of these conferences would be the first to warn you not to copy their models, but they still sell their DNA-saturated resources to thousands of church leaders.
The dramatic irony is that what happens at most conferences is the exact opposite of what propelled the host church or organization to be effective in the first place.
These leaders once endured a process of self-understanding and original thinking that helped in articulating a stunningly unique model of ministry. But after discovering their Church Unique, these leaders no longer taught the same way they learned.
Where does the conference maze lead us?
The success of these mega-models creates a great temptation for others to copy them.  In that moment, leaders walk into a thinkhole.
A "thinkhole" represents the quicksand-like dynamic where, at certain times and places, vibrant thinking gets sucked beneath the surface to suffocate and disappear from view.
Along the great race of leadership you probably find yourself on, thinkholes are the obstacles, barriers, and danger zones that keep us from thoughtful self-knowledge.
At Auxano, we are certainly not against studying best practices – we had team members at Catalyst last week and several others were following it online; Will is speaking at Exponential West this week, and several of the team will be watching it live. We have Tweeted, posted, and written about learnings we gather at events like these.
Conference best practices are okay to study – we're just against not thinking in the process!
The reality is that most people – sadly, including many leaders in today's churches – don't think; they only rearrange their prejudices. Real thinking can be disruptive to the status quo and requires a great deal of courage.
Don't get lost in the conference craze – be courageous, think through what you heard, and then struggle mightily to see if it needs to be a part of your Church Unique.
>> Download a PDF of the 6 common types of thinkholes that blanket the church landscape here.
Information without application leads to stagnation.
– Steven Furtick

Tags: Catalyst, The Conference Maze, Thinkholes