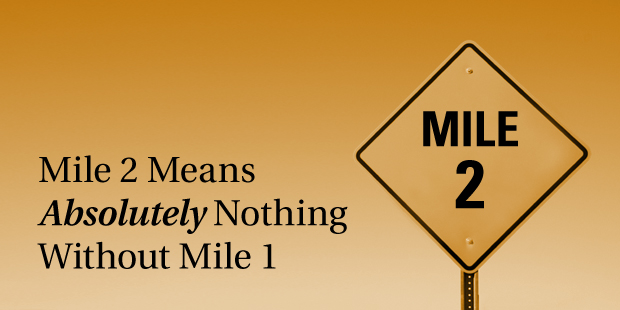 Mile 2 Means Absolutely Nothing Without Mile 1
by: Kelvin Co

A challenge for communicators is to continually tackle the work we do, regardless of how fun and exciting it is. Sometimes, it's downright boring. This five-part series tackles boring vs. fun in church communication.
As creatives in ministry, we have fun jobs. We get to come up with and work on the new and next cool thing at our church. But unfortunately, with all the fun comes a lot of boring. I love this quote about photography: "It is 10% creativity and 90% moving furniture." I think that principle applies to all types of creative endeavors.
We all deal with the tension between the fun and the boring. We all want to work on the fun stuff—developing a new campaign, researching the latest technology, planning the latest strategy, being part of the team working on the new Easter special, etc. But all that comes with the equivalent portion of the boring (paperwork, budget, procedures, follow-ups, etc.) in communication (proofing, updating, maintaining, archiving, documentation, etc.).
Here's the most important thing I've learned in my 25+ years of work life regarding this constant tension: Mile two means absolutely nothing without mile one.
Read the rest of Kelvin's post here.
Read Part 2 here.
Read more from Kelvin here.

Tags: Attention, Awareness, Kelvin Co