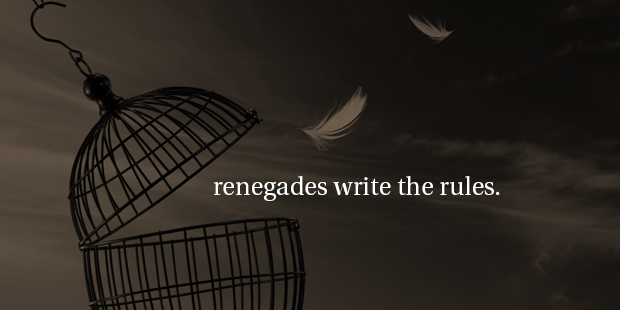 Renegades Write the Rules
by: Michael McKinney

Amy Jo Martin (@AmyJoMartin) has written a book about connecting. About being human. Renegades Write the Rules is about how to connect with other people using the medium of social media. But you'll find you can apply the principles in many other ways too.
She stresses the importance of just being you. Especially when it comes to exposing yourself using social media, that can be an uncomfortable place. "We all have the tendency toward the creation of a veneered version of our brands that we think is more acceptable, more compelling, more marketable to our audience. … Ultimately it makes you less human."
You begin by using social media to listen; to find out what matters to your audience. And then consistently deliver it.
Importantly she notes, "Being excellent still earns an audience these days, but to keep them and attract more requires giving them something more personal….Without the ability to nurture loyalty through human connection, your brand's value relies solely on performance." Let that sink in. People don't buy your what, they buy your why. 
Martin takes you through 8 essential renegade rules using good examples from her own experience and the organizations and people she has worked with like Dwayne Johnson (@TheRock), Shaq (@shaq), and Tony Hsieh (@TonyHsieh). Her philosophy is that "Renegades experiment and fail early so when everyone else jumps on the bandwagon, their best practices are being polished while others' are just starting to fail. Sometimes it's not about being the best or smartest; it's about being the first to try and the first to learn from failure."
I found all of the chapters helpful, but one of my favorite sections came in the appendix. Martin shares fifteen lessons she wishes she had known from the beginning. Here are eight of them:
Where passion, skill, and purpose collide, bliss resides.
Beware of the shiny object syndrome (SOS). It's important to know the difference between an opportunity and a distraction.
You can color outside the lines without crossing the line. Disruption and destruction have two different outcomes.
Learn how to push your own buttons. It's important to motivate and inspire yourself. Everyone else is busy.
A five-degree shift changes your entire trajectory.
Your hustle factor is often your differentiating factor. Work hard.
Learn to control your thoughts and you will be free.
Don't forget the importance of your personal brand. Your personality, confidence, and the way you conduct yourself define your brand. You can always improve it.

Tags: Attention, Awareness, Brand, Michael McKinney, Renegades Write the Rules