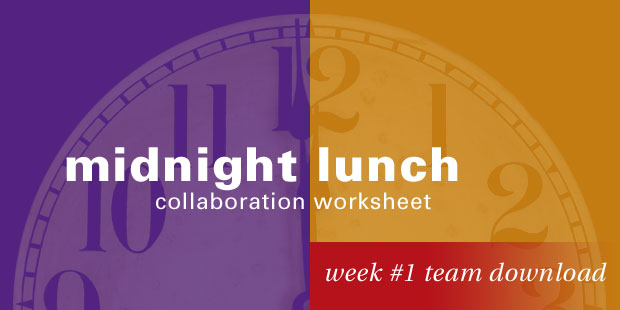 Midnight Lunch Team Worksheets
by: Sarah Miller Caldicott

Sara Miller Caldicott, great grandniece of Thomas Edison and author of the new book Midnight Lunch, has translated Edison's world-changing innovation methods for use in the 21st century. Here are some of her thoughts on collaboration:
True collaboration embraces:
A discovery learning mindset versus a pure task orientation
A belief in anticipating and creating rather than merely reacting and responding
Presence of inspiration across multiple facets of both individual and team endeavors
Coherence of purpose
A dedication to elevating the performance of every team member
Connections to human and social networks of influence
Do these qualities sound different from the ones valued by your team? Do they draw upon ideas that feel new or seem broader than your current concept of what teamwork embraces?
Based on experience, the answer would be yes.
So what are you going to do about it?
Caldicott has developed a series of 12 worksheets so your team can integrate its project work with true collaboration concepts in her new book, Midnight Lunch: The 4 Phases of Team Collaboration Success, from Thomas Edison's Lab.
Why not integrate these worksheets into a weekly learning exercise with your team?
Download all the worksheets here:
Week 1: The Roots of the 4 Phases of Collaboration
Week 2: Global Forces Impacting Collaboration
Week 3: Phase 1 – Capacity – Diversity
Week 4: Phase 2 – Capacity – Small Teams Foster Collegiality
Week 5: Phase 2 – Context – Solo Meld Expands Individual Creative Efforts
Week 6: Phase 3 – Context – The Pathway to Breakthroughs
Week 7: Phase 3 – Coherence: Deepening Bonds Through Inspiration
Week 8: Phase 3 – Coherence: Fostering Debate and Progress
Week 9: Phase 4 – Complexity: Spotting and Leveraging Complex Systems
Week 10: Phase 4 – Complexity: Social Media and Viral Networks
Week 11: Phase 4 – Complexity: Harnessing Collective Intelligence
Week 12: Facing the Future: The Long-Term Impacts of Collaboration
Read more from Sarah Miller Caldicott here.
Purchase Midnight Lunch here or as a Kindle version here.
Read our Sums book summary of Midnight Lunch here. Go here to register for our biweekly release of future Sums.

Tags: Collaboration, Innovation, Sarah Miller Caldicott, Team, TeamRead Worksheets, Thomas Edison