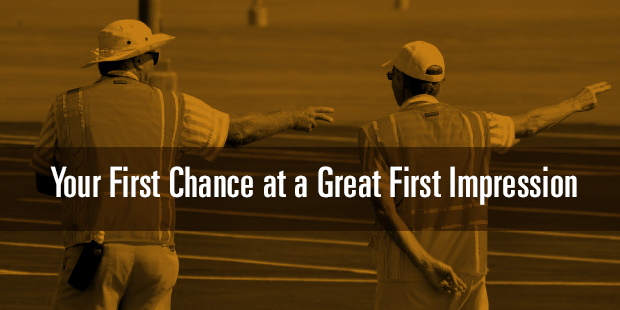 Your First Chance at a Great First Impression
by: Bob Adams
While onsite with a church near Orlando this week during a Guest Experience consultation, I emphasized the importance of a Parking Team in the church parking lot. After completing the consultation, I stopped by Walt Disney World for a field trip to observe the real pros at parking: the Cast Members who work on the parking teams at Walt Disney World.
The two cast members pictured above are working in the lot at Disney's Hollywood Studios. What the picture doesn't show is that the Cast Member on the right had just completed walking down the entire row of parking spaces, personally directing each car to a space and then engaging most of the Guests (especially those with children) along the way. The kids were laughing, the parents were smiling, and a successful trip was well under way – before the family even set foot in the park.
What a powerful first impression!
The first face of your church is in the parking lot. Guests and members coming to your church should see an energetic, welcoming, smiling group of people helping you pull into the parking lot and getting safely to the buildings. But they are much more than that – they are setting the tone for the whole experience – before your Guests even enter the building.
I was reminded of this one night during the course of the small group I lead. We were talking about the "connections" of groups, and I asked our group to share a quick story of how they became connected to Elevation. One of our members recounted the story of how his wife had been encouraging him to come with her for weeks, and he finally did. He didn't want to indicate he was a first-time Guest, but he did. He didn't want to engage in a conversation with a parking team member in the Guest Parking lot, but he did. He didn't want to talk with our VIP team, but he did. He was reluctant to go into the auditorium, but he did. He didn't want to be seated by our ushers but he did. During the worship experience, he became convicted by all he had seen and heard, and gave his life to Christ that day. Today he leads a men's eGroup dealing with recovery issues, participates in my couples group, serves on a security team, and by his wife's admission, is a totally different husband and dad.
That's why the Guest Experience is so important. I believe the Holy Spirit will work on individual's lives no matter what we do. But as my friend Sam attests, the journey from skeptic to believer began with the repeated welcome and kindness he received every step of the way.
Full disclosure: I love parking teams. I've served on parking teams at two different campuses for Elevation Church since 2009. I've written about those experiences here and here. I think every church needs to have a parking team whose primary job is not to park cars, but to welcome all who drive onto the campus with the love of Christ.
Is your church's team creating an amazing first impression to Guests coming to your campus this weekend?
---
Parking is just one of seven Checkpoints covered in Auxano's Guest Experience Boot Camp. Check out Auxano's Guest Experience Boot Camp in Cincinnati, OH on August 7-8.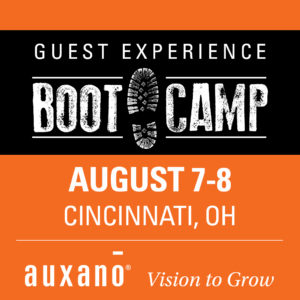 Tags: Bob Adams, Church Guest Experience, Church Parking Team, First Impression, Guest Experience, Guest Experience Boot Camp