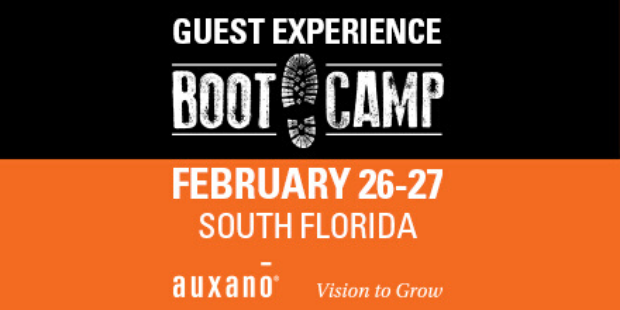 Here's 5 Reasons OTHER Church First Impression Team Leaders Think YOU Should Attend the Guest Experience Boot Camp
by: Bryan Rose
There are quite a few reasons I could come up with to encourage you to participate in Auxano's upcoming Guest Experience Boot Camp in West Palm Beach, FL. Given the vast array of conferences and workshops you could attend, you might be wondering if bringing a team to Florida is worth the investment of time and resources? So rather than hear my reasons, I thought it would be great to hear from recent attendees of our Guest Experience Boot Camps.
Here are five reasons, when asked what they liked best about their Boot Camp experience, other Guest and Church Hospitality leaders think you should attend:
1. Because hoping to create a better Sunday experience is not the same as actually creating an intentional plan for welcoming first-time guests.
"We loved the space and coaching to think intentionally – and create a plan for our church."
The Guest Experience Boot Camp is the only conference, workshop or seminar that includes the time and tools to create an actionable plan.
2. Because your church is not like any other church, yet has the potential to learn something from every other church.
"Our team really enjoyed how practical the whole thing was. You understood each church had a different dynamic and gave us opportunities to discuss but also learn from others."
The Guest Experience Boot Camp fosters church-to-church interaction and collaborative learning from other leaders across the country.
3. Because learning from experienced practitioners helps more than listening to accomplished speakers.
"I thought the presenters were knowledgeable and engaging. I also enjoyed the Disney references."
The Guest Experience Boot Camp trainers have worked with hundreds of churches and leverage real-time experience in your real-world context.
4. Because leading a team over the long term requires practical tools that supplement training.
"The workbook is gold, and if I lose it, I will probably cry. Thank you for developing such an incredible resource!"
The Guest Experience Boot Camp workbook functions as an "evergreen" resource in training your new, and seasoned leaders to create an atmosphere of hospitality every Sunday.
5. Because engaging, fresh content creates more energy than watching yet another talking head speaker.
"The passion that Bob and Bryan demonstrated for what they believe will make a difference through the stories they shared."
The Guest Experience Boot Camp combines the inspiration and information you are looking for with a plan for implementation that creates second-and-third time guests.
Details and registration information available here.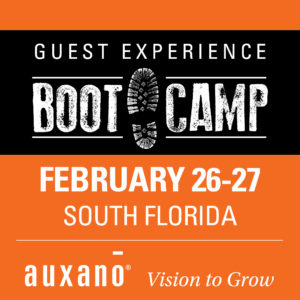 Tags: Church Guest Experience, Guest Experience, Guest Experience Boot Camp, Hospitality, church hospitality