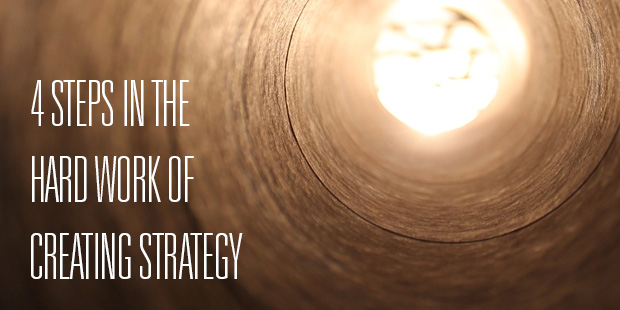 4 Steps in the Hard Work of Creating Strategy
by: VRcurator

98 percent of churches in North America are not functioning with strategic clarity on how they get things done.
Every week Auxano Navigators work with leadership teams from churches across the country to help correct this glaring deficiency.
All too often, we find a threefold problem for churches that have no strategy:
Churches have too many ministry or program options.
The ministry options have no relationship with one another.
The ministries themselves have no connection to the mission – in fact, never the two shall meet!
Is your church one of those that is lacking strategy?
Recently, I read an article on HBR.org that spoke to this situation. The authors give 4 great steps that are applicable as leaders prepare to create a strategy for their church:
No great strategy is born without careful thought. That's why the process of planning a strategy itself is an important vehicle for setting priorities, making investment decisions, and laying out growth plans. But for many organizations, the activity has devolved into either an overexplained budget or very little meaningful substance that can be translated into action. As a result, many strategic plans end up as shelf decorations or hard-to-find files in crowded hard drives.

Since this is the season when many organizations are engaged in strategic planning, it's just the right time to break bad habits. Here are four steps that you can take to make better use of the hard work that goes into planning a strategy:

Insist on experiments to test the assumptions you've made
Banish fuzzy language
Escape from template tyranny
Ask provocative questions
You can read the complete article here.
The strategy development planning process is an important part of most organizations' operating rhythm. Your leadership challenge, however, is to make sure that it's more than just a group exercise.
There is real beauty in clarifying, focusing, and strengthening the ministries as defined by your strategy; the people who are growing in the process will take other people along with them.
Growing people grow people. Consuming people consume programs.
>>Without stating and integrating a simple strategy, your church will remain stuck in a bottleneck of the status quo.
>>With a strategy, your church can develop its unique approach to growing disciples.

Tags: Strategy, Vision Frame