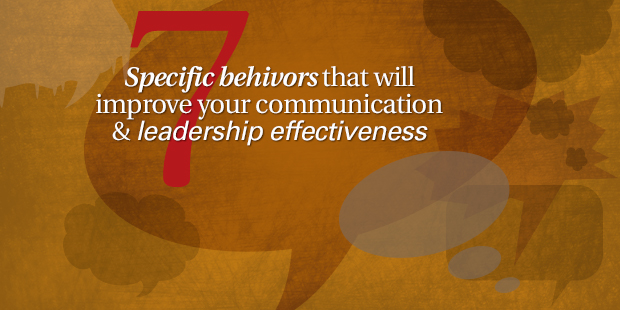 7 Specific Behaviors to Improve Your Communication and Leadership Effectiveness
by: Center for Creative Leadership

Business, political and religious leaders around the world aren't getting much love these days.A study conducted by Ketchum showed deep dissatisfaction with leaders in "every category of human endeavor." The global PR firm's 2012 Leadership Communication Monitorreports a gap of 28 percent between the public's expectations of leaders and those leaders' ability to meet those expectations. Only 25 percent of those surveyed feel that our leaders are demonstrating excellent leadership overall.And we are cynical — we expect leaders to be mediocre.But the data also revealed what people want and expect from their leaders.
"The magic formula is straight-talking, action-oriented leadership, powered by honest, transparent communication — with the leader's personal presence being a critical ingredient," writes Rod Cartwright, director of Ketchum's Global Corporate Practice.The research points to seven specific behaviors to improve communication and leadership effectiveness. Ketchum spells them out:
Close the say-do gap. Lead by example, have the courage and commitment to act, and keep a level head during difficult times.
Strong, silent types need not apply. Communicate clearly and consistently, and with humility. Be willing to admit mistakes. Be able to bring out the best in others, and adapt to different personality types.
Don't sugar-coat it. Speak the truth with purpose and without ambiguity. People can handle a challenge if they understand it and if they have confidence their leader is being straight with them. Explain the issue, explain your plan for addressing it and ask for their help.
Listen, analyze and adjust. Different situations require different leadership styles and skills, i.e. directing, listening, delegating or partnering. Each has corresponding communication needs. Step 1 is to recognize the leadership and communication needs of the situation, and step 2 is to adjust the leadership and communication style to meet those needs.
The way to be seen as trustworthy is to be trustworthy. For individuals or organizations to be seen as leaders, nothing rated higher than trustworthiness, trumping even quality of management, financial strength and innovation.
Let them look you in the eyes. Face-to-face communication is by far the communication channel that creates the greatest sense of leadership credibility.
Traditional is traditional for a reason. How a leader communicates through traditional broadcast and print media is markedly more effective in building trust and leadership credibility than what is communicated through advertising, owned Web sites and social media channels — unless you're a politician, in which case credibility is fundamentally lacking regardless of the channel.
Read more from CCL here.

Tags: Center for Creative Leadership, Leadership Development, Leadership Engine