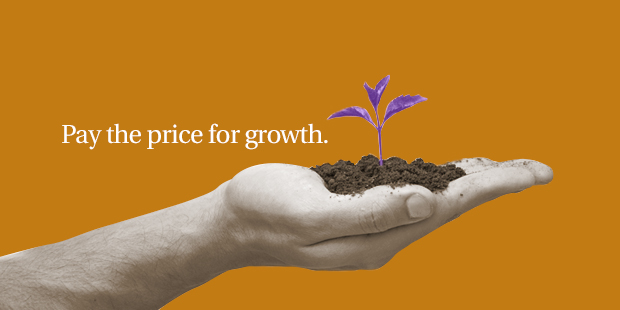 Pay the Price for Growth
by: Mac Lake

I don't think I've ever met anyone who doesn't have a desire to grow. We know that growth increases our sense of joy and contentment. It increases our self-confidence and sharpens decision making.    And it produces a depth of wisdom and understanding that impact the quality of our relationships.  With all these benefits who wouldn't want to grow?
The problem isn't the lack of desire, it's the lack of discipline.  Typically most people don't grow until they are forced to by tragedy, loss or pressure. When life is good, or at least tolerable, it's easy to put our personal development on hold.  The truth is growth always requires surrender and sacrifice.  If I want to grow in my relationship with Christ I must surrender the will of my flesh to pursue the desires of the Spirit .  If I want to grow as a leader I must sacrifice having an abundance of leisure time for the sake of having adequate learning time.  When I refuse to surrender or sacrifice I won't have the margin to grow to my greatest potential.  Solomon wrote in Proverbs 23:23, "Buy… wisdom, instruction and understanding." Solomon is implying that  growth is never free, we must exchange something we value for wisdom, instruction and understanding. Growth will always cost you something: time, money, energy, pain or greater humility.  And the funny thing is when you pay the price you value it even more.
What do you need to give up in order to grow up?
Read more from Mac here.

Tags: Leadership Development, Leadership Engine, Mac Lake