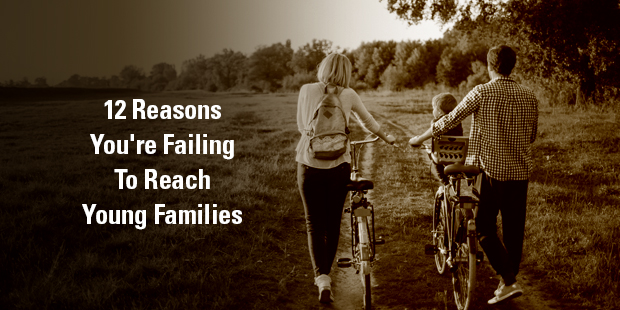 12 Reasons You're Failing to Reach Young Families
by: Bryan Rose

You would rather shame a mom and dad for missing Sunday worship than equip them to engage other travel-ball parents with the Gospel.
You consistently make decisions based on anecdotal member happiness rather than analytical program effectiveness.
Your children's area smells musty, or it looks worn and outdated.
Your decisions about worship style, service times or service content are made in fear of losing people rather than conviction toward reaching people.
You have tens, or even hundreds, of thousands of dollars in the bank and carpet from the mid-1990's or before.
Your conversations about churches in your area experiencing growth are marked by negativity and insecurity.
You are close to retirement, looking for easy wins and avoiding the challenges required by a change.
Your personal calendar reflects more time spent doing ministry tasks than developing ministry leaders.
You expect parents to be the primary spiritual influence in their homes, but fail to provide any meaningful engagement or resources beyond baby dedication Sunday.
You rarely, if ever, ask the youth minister what he or she is most passionate about.
You and the team watch webinars, attend classes online and stream the latest conferences, yet refuse to live-broadcast Sunday worship services.
Your Children's ministry security is non-existent or revolves around the "technology" of classroom volunteer facial recognition.

Tags: Bryan Rose, Children's Ministry, Families, Reaching young families