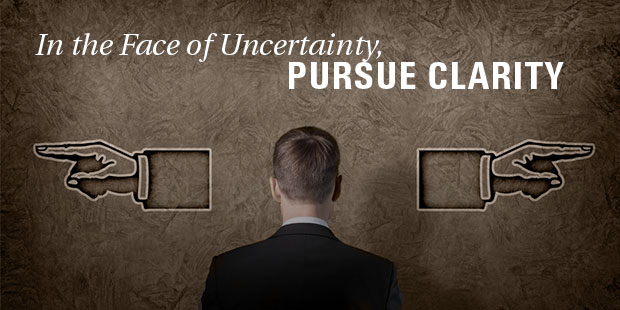 In the Face of Uncertainty, Pursue Clarity
by: VRcurator

One force that's ever-present in any form of creative work – like ministry – is uncertainty. The reality is that you will never know – really know – what's right.
Is this good enough?
Is it finished?
Is it the right strategy?
How should I spend my time/focus/energy today?
Which idea should I run with?
How can I sell this to my team?
Uncertainty is an uncooperative dance partner. You have to move with it – in concert, drawing from it, following its lead at times, but always with an eye on your next move – in order to do your best work. The worst thing you can do is allow uncertainty to paralyze you into inaction.
Todd Henry, founder of the Accidental Creative consultancy and author of The Accidental Creative and Die Empty, has a challenging statement for leaders who are facing uncertainty:
>> In the face of uncertainty, pursue clarity.
You will never rid yourself of uncertainty. It's a part of the game. When the sand is shifting beneath your feet, try to find some solid ground. Seek clarity. You'll often find that simply getting clear relieves some of the pressure and illuminates your next steps.
Read the full article on pursuing clarity by Todd here.
To download a summary of Todd's book The Accidental Creative, go here.

Tags: Clarity, Personal Clarity, The Accidental Creative, Todd Henry, Vision Clarity